Bobcats' comeback sets up state title rematch with Ottawa in Saturday's
BLHS

Invitational final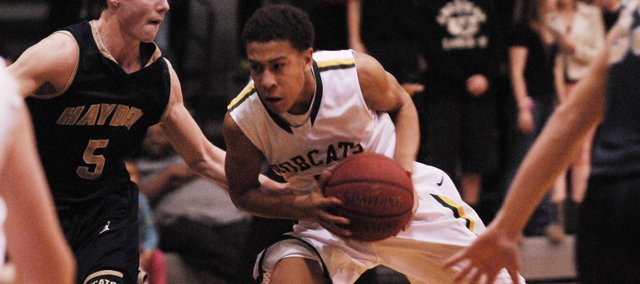 Photo Gallery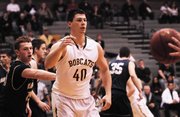 2013 BLHS Invitational
Take a look at shots from both the BLHS boys and girls basketball teams in action at this year's BLHS Invitational.
After trailing by as much as 11, the Basehor-Linwood boys basketball team rallied back to defeat Topeka Hayden, 47-42, Thursday to set up a rematch of the 2012 state title game against Ottawa in Saturday's BLHS Invitational final.
BLHS senior Ben Johnson scored all 12 of his points in the fourth quarter, junior Chase Younger led the team with 13 points and freshman Jahron McPherson added 11 points and several crucial steals to power the comeback against the Bobcats' 2012 sub-state final opponent.
Senior Matt Ogilvie put together his strongest performance of the year thus far, compiling nine points and four rebounds, including an and-one in the fourth quarter, a frame in which Ogilvie scored five points, behind only Johnson.
The Wildcats held Johnson scoreless until 3:34 left in the third quarter. At that point, the Bobcats faced their largest deficit of the game at 11. But soon Johnson's second basket sparked a 9-2 BLHS run to pull within five entering the fourth quarter. With 90 seconds left in the third quarter, McPherson hit a three-pointer to pull within 28-32 and converted one of his multiple steals into a layup to make it a two-point game as the fourth quarter neared. But Hayden hit a buzzer-beating three-pointer to quiet a celebratory gym.
Hayden actually extended its lead to eight three minutes into the fourth-quarter before a 9-0 BLHS run gave the Bobcats (6-3) their first lead since going up 9-8 in the first quarter.
Hayden hit a pair of free throws to go back up 42-41 but Younger was fouled with 43 seconds left and hit both of his free throws to return the Bobcats to the lead for good.
Still, the game wasn't sealed yet — at least not until Younger came up with a steal on the other end and forced a jump ball that was awarded to the Bobcats with 17 seconds left. From there, BLHS took care of business at the foul line and walked off the court having advanced to the final of its home tournament.
As he walked off the court, BLHS coach Mike McBride was met with congratulations and a repeated phrase: "State title game rematch."
As if he needed a reminder.
Duke commit Semi Ojeleye and Ottawa will meet BLHS at 7:30 p.m. on Saturday.
Girls: Holton 51, BLHS 24
Holton scored the game's first three field goals and never looked back in a 51-24 defeat of the BLHS girls basketball team on Thursday.
The loss sent the Bobcats (5-4) to the BLHS Invitational's third-place game against St. Joe Benton at 3 p.m. on Saturday.
Madison McDowell hit a three-pointer to pull within 19-14 with 4:12 left in the second quarter, but the Wildcats went on a 14-1 run the extended into the second half to build an insurmountable lead.
Amber Garver led BLHS with eight points and Jamie Johnson added six points. McDowell and Alex Gorman each added five points and Victoria Smith scored four.