Ottawa wins 64-59 thriller against Bobcats in
BLHS

Invitational title game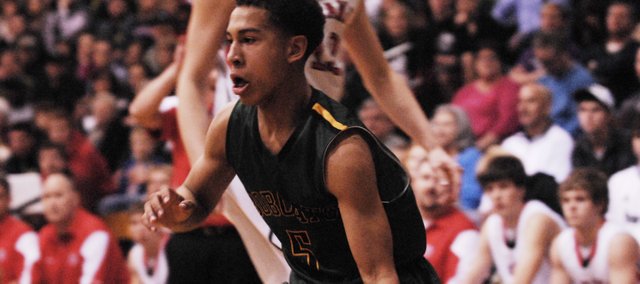 Photo Gallery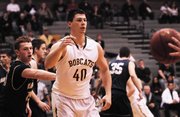 2013 BLHS Invitational
Take a look at shots from both the BLHS boys and girls basketball teams in action at this year's BLHS Invitational.
More from the BLHS Invitational
• St. Joe Benton defeated the BLHS girls basketball team, 50-29, in the tournament's third-place game. Senior Jamie Johnson was named to the all-tournament team. Stay tuned to basehorinfo.com for more on the BLHS girls basketball team.
• Senior Ben Johnson and junior Chase Younger were each named to the BLHS Invitational boys all-tournament team.
One week ago, after the Basehor-Linwood boys basketball team hit what he called its "rock bottom," coach Mike McBride made clear that this wasn't the same team that brought home the 2012 state title.
On Saturday, against the team it defeated to earn that title, the result was still nearly the same as their last meeting. But Ottawa, led by Duke University commit Semi Ojeleye's 47 points, held on to defeat the Bobcats, 64-59, in the final of the BLHS Invitational.
Unsure how BLHS would perform leading into this week — and unsure how it'd respond to an audience that eclipsed the thousands on Saturday — McBride left the locker room having arrived at a conclusion.
"I think the barometer is back to where I thought we were at the beginning of the year: I thought we were a state contender," McBride said. "We have as talented of guards as we had in 2009. If they don't think they're a top four, five team in the state after tonight I don't know how to show them."
The Bobcats (6-4) didn't merely hang with the Cyclones (13-0) in Saturday's rematch, they entered the second and fourth quarters with leads, and withstood Ottawa runs never trailing by more than five points.
And when it mattered most, down four with less than a minute left, BLHS received the most clutch of shots authored by its youngest player.
Standing at the top of the key, a man in front of him, freshman Jahron McPherson arced his second three-pointer of the night, this one pulling the Bobcats within one with 44 seconds left.
"I'd like to see a better freshman in the state right now in terms of what we want him to do," McBride said afterward.
Still, the Cyclones held on, aided by a travel called on McPherson on the other end, a pair of free throws made by Ojeleye — he hit 15 of 18 — and a miss by Younger in the waning moments.
"I can live with someone Duke chose beating us by five," McBride said. "Do I think we could have a second chance against them? Yes."
Younger led the Bobcats with 18 points, hitting four three-pointers on the night. Junior J.P. Downing added a season-best 11 points and McPherson finished with 10. Senior Ben Johnson added nine points and five rebounds.
"I thought we played pretty poised," Johnson said. "I thought our younger guys stepped up. I was happy with how they stepped up in an environment like this."
Student sections bled into neighboring rows and every possible seat was taken for Saturday's final. Ojeleye became the first player in the 13-year history of the tournament to be named its most valuable player twice. He scored 122 points in three games, and brought down a one-handed dunk in the fourth quarter that brought half the crowd to its feet and awed the other half.
"It's always a challenge guarding that kid," Johnson said. "He plays hungry."
For BLHS, the tournament represented something of a pivotal point in its season. Against opponents in Ottawa and Hayden with which they share histories, the Bobcats strung together a week of performances that affirmed their coach of their capability.
Perhaps it was the void left by the graduated Murphy twins, McBride thought, that delayed several players from stepping up and being the leaders they need to be to reprise last season's successes. On Saturday, Downing, who played a huge role as a sophomore in the Bobcats' 2012 title run, took on a next-level presence.
In addition to an and-one in the first quarter to help the Bobcats jump out to a seven-point lead, the largest lead either team held all night, Downing added a pair of three-pointers in the second half.
"That's what we knew he could do," McBride said.
Ask McBride, and he'll say the season's turnaround preceded the BLHS Invitational Final. Against Hayden on Thursday, Younger picked up his third foul and had to take the bench.
It was shortly thereafter, with 3:37 left when Johnson scored his first basket of the game. McBride turned toward his guard, who at times this year has put the offense on his shoulders to the tune of 39-point games, and made clear just how many options are on the floor for the Bobcats on a given night.
"We're going to be fun to watch," McBride later said. "We just have to learn to play as a team."
Younger, Downing and McPherson can do damage from the field, McBride added, while Johnson continues to get his legs four games into his senior season. Meanwhile, senior Matt Ogilvie continues to develop into an athletic presence under the rim.
"We went six-deep tonight," McBride said. "Those are six kids not intimidated by the moment."