BLHS

wrestlers split against Ottawa, Mill Valley on senior night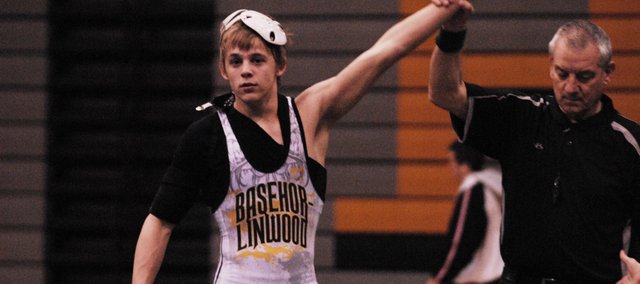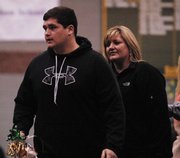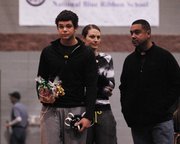 Basehor-Linwood seniors Sam Seaton and Seagar Smith each notched a pair of senior night victories while fellow senior Will Bond's mere presence impressed at Thursday's triangular dual meet against Ottawa and Mill Valley.
After opening with a commanding 61-17 win against Ottawa, the Bobcats went down to the wire against Mill Valley. After taking a 26-20 lead, BLHS saw Mill Valley storm back to take the lead for good with two straight wins. Adam Swearingen's pin of Dominic Foster at 220 pounds clinched an eventual 35-32 Mill Valley win in the night's final dual before Smith capped the evening with a pin of Mill Valley's David Uriarte.
Earlier on Thursday, Smith earned a 5-3 overtime win against Ottawa's Mickey Jensen.
Seaton began the night with a pin against Ottawa's Virgil George in 47 seconds and later defeated Mill Valley's Daniel Gray by a 6-3 decision.
"We came out and we battled tough," Cordts said, later adding, "I can't be more proud of these guys. It's just great to see how far we've come. Last year we lost to both Ottawa and Mill Valley."
Cordts also said Bond's return was a pleasant surprise. Bond missed much of the season because of hernia surgery but returned to practice immediately after being cleared two weeks ago and just in time for senior night.
Josh Summers, John Hopper and James Handke also each won both of their matches on Thursday. In all, against Ottawa, the Bobcats won seven matches by pin.
Handke, who made his varsity debut two weeks ago, tied the Bobcats' meet against Mill Valley when he won his second straight pin of the evening, this time against Peyton Benoure. Steven Struzzo's pin against Regan Wright put the Bobcats up 26-20 before Mill Valley strung together a pair of wins to clinch the overall victory.
BLHS returns to competition on Feb. 9 with the Kaw Valley League Tournament at Tonganoxie.
Stay tuned to basehorinfo.com for more on the BLHS wrestling team's seniors, and pick up the Feb. 7 issue of the Sentinel for a feature on BLHS assistant coach Ed Seaton and his son, BLHS senior Sam Seaton.