Braves drop home dual vs. Tonganoxie
Early lead doesn't hold in battle of ranked teams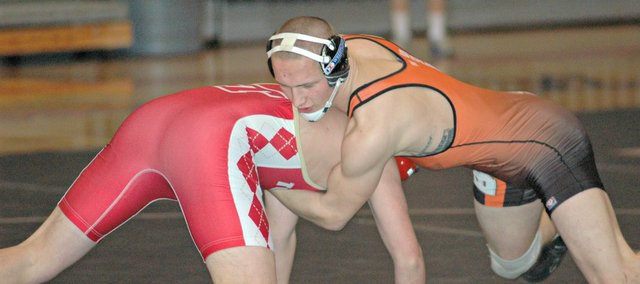 Bonner Springs' home dual Thursday against Tonganoxie quickly evolved into an instant classic between a pair of ranked programs. Unfortunately for the Braves, though, it won't go down as a win.
No. 2 BSHS put itself in a position to win, jumping out to a 27-11 lead after nine matches, but dropped its final five in a 34-27 loss to the No. 8 Chieftains on senior night.
The teams split the first six matches of the dual, but pins by Josiah (106) and Justus Seaton (113) gave BSHS a 15-11 lead. The Braves won the next three matches, including a pin by top-ranked Aaron Puckett (160), to extend their advantage to 27-11.
During that stretch, Jonathan Blackwell, the state's top Class 4A wrestler at 152 pounds, won the only match of the night between two ranked wrestlers. He defeated sixth-ranked Asher Huseman, 9-3, to stay undefeated this season. Following Puckett's pin, the Chieftains reeled off four straight wins to take a one-point lead with only the heavyweight match remaining. Tonganoxie's Zeke Kissinger pinned Les Wessel in the finale to cap off the comeback.
"We knew they were a good team coming in and they'd be real hard to beat," Jobe said. "There were just a couple key matches there in the middle where we they won one and we won one. I knew there were going to be swing matches, but they're solid up top."
BSHS seniors were honored in a ceremony before the dual. The teams will see each other twice more this season — once at the Kaw Valley League tournament on Feb. 9 at Lansing, then again at regionals on Feb. 15-16 at THS. Bonner Spring will travel Saturday to Wyandotte for the WYCO tournament, while Tonganoxie is off until the league tournament.
No. 8 Tonganoxie 34, No. 2 Bonner Springs 27
106 — Josiah Seaton (BS) pinned Connor Yates (TON)
113 — Justus Seaton (BS) pinned Ethan Phillips (TON)
120 — DJ Ballard (BS) def. Garrett Martin (TON), 5-2
126 — Jordan Boudreaux (TON) def. Kolbe Seaton (BS), 11-3
132 — Clayton Himpel (TON) def. Coltin Bulkley (BS), 9-0
138 — Dylan Yates (TON) def. Dominic Salvino (BS), 19-6
145 — Bryan Lanning (BS) def. Seth Wolf (TON), 4-0
152 — Jonathan Blackwell (BS) def. Asher Huseman (TON), 9-3
160 — Aaron Puckett (BS) pinned Alex Kroll (TON)
170 — Gus Dent (TON) def. Jacob Folsom (BS), 13-5
182 — Luke Carey (TON) def. Patrick Ballard (BS), 11-5
195 — Julius Coats (TON) won by default
220 — Thomas Miller (TON) def. Johnathan Carter (BS), 10-2
285 — Zeke Kissinger (TON) pinned Les Wessel (BS)
*Tonganoxie forfeited one point due to unsportsmanlike conduct