Basehor children's librarian named Citizen of the Year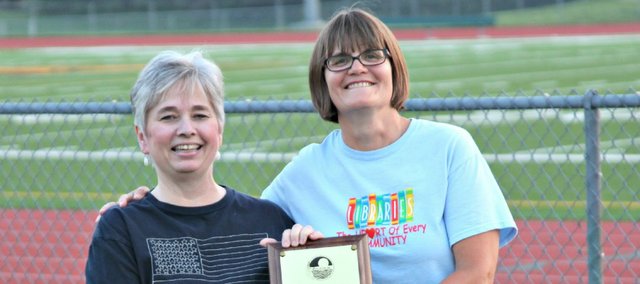 Vickey Long is quite popular with the children of Basehor, so upon being announced as the city's 2013 Citizen of the Year, it was only fitting that she received hugs from several of them.
Long, the children's services director at Basehor Community Library, received the award prior to Tuesday's Fourth of July fireworks display at the Basehor-Linwood High School football stadium. She stopped to embrace several kids on her way to accept the award, then received one final hug from library director Diana Weaver before receiving her plaque.
"She treats each kid differently depending on who they are," Weaver said of Long, who has served as the children's director since 1997. "She is very giving to the kids and they just love her to pieces. You'll see these parents bring their little ones in, and their faces go back to they were little kids, so that's just very special."
Long coordinates several children's library programs throughout the year, including a summer reading program that has an enrollment of nearly 600 this year. Additionally, she makes monthly visits to district elementary schools during the school year. She has further supported the Basehor community and its schools as a longtime community representative on the Basehor Elementary School site council.
Long was nominated for the award by BES librarian Cyndi Kenton, who also serves as an assistant at the public library.
"If you were to ask, chances are anyone you would see in Basehor knows Miss Vickey," Kenton said in her nomination letter. "She is treated like a celebrity by the families at the library."