BLHS

grad pays homage to great uncle through book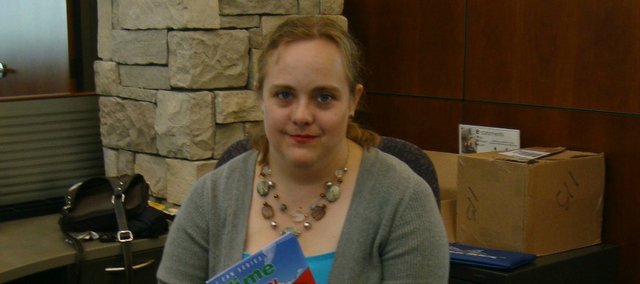 Niki Svenson didn't legitimately start writing until she was 15, but even at an early age, she had a pen in her hand.
Svenson, a 2004 graduate of Basehor-Linwood High School, used to write plays as a child, then have her cousins act them out. Her writing got more serious as she progressed through high school and college, and it recently became much more than a hobby.
Inspired by a member of her own family, Svenson wrote a children's book entitled "Mime for Michael." The 24-page book tells the story of a boy named Michael who, despite being deaf, discovers he has a talent for miming.
The book's main character is based on Svenson's late great uncle, Michael Jolliffe, who died of viral meningitis in 1998. Jolliffe overcame his disability to become a professional painter and mime.
"My mom and grandmother kept telling me stories about my (great) uncle," said Svenson, who wrote the book while studying sign language at Johnson County Community College. "That just inspired me to say 'here is an amazing guy who went above and beyond his disability and succeeded.' That inspired me to write my first book in honor of him.
"I had to get all my resources together and get all my facts right before I started writing. It was just a matter of calling places and speaking to my family that really knew my great uncle. As I wrote the story, in my mind, I could picture it coming to life."
After completing the book, which she said took about six months, Svenson got it published by Tate Publishing — a Christian-based, family-owned organization located in Oklahoma. She returned to her hometown on Saturday for a book signing at First State Bank and Trust. There were copies of the book available for purchase at the signing, but it won't officially hit shelves until July 30. It will also be available as an eBook download. For more information about the book, go to ican.tateauthor.com.
The book is the first in a series which Svenson titled "I Can." The series will go from A to Z, covering different disabilities in alphabetical order.
"I want this series to inspire not just kids with disabilities, but any kid to believe in themselves," Svenson said. "I want a great future for any kid, and I'm letting them know through my books that they can succeed."
Svenson has already completed her next book in the series, "A for Austin," which will be published at a later date.