Bonner Springs' youth summer camp sees major growth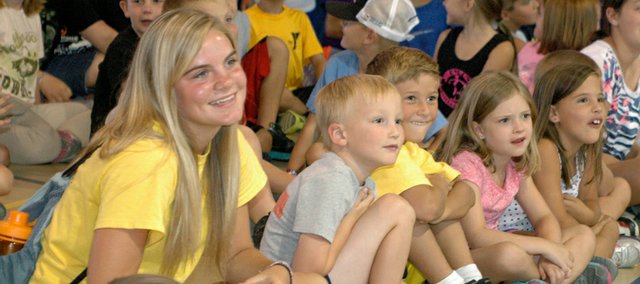 It has become a familiar sight to motorists in Bonner Springs: a high school student or two leading a line of 10 or so elementary students through downtown, or perhaps along streets to the east as they head to Lions Park or the library.
The children are participants in the Bonner Springs Parks and Recreation Department's Great Adventures Summer Day Camp. This summer, it might seem as if you could find one of those walking groups just about everywhere you turn.
Photo Gallery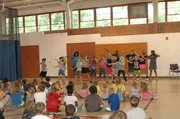 Summer camp variety show
Last week's theme was drama at the Bonner Springs Parks and Recreation Department's Great Adventures Summer Camp, and it culminated with a variety show of camper performances. The summer camp has nearly doubled in size this summer, with average daily attendance growing from 59 to 87, drawing campers not only from Basehor, Bonner and Edwardsville, but also from nearby areas like Piper and Shawnee.
That's because there are many more campers this year. Average daily attendance in the camp has jumped from about 59 last summer to 87 this summer, prompting parks and recreation to hire more camp counselors. The department's budget for the camp jumped from a planned $51,425 to $120,000 this year because of the increase.
Patty Nickell has served as the camp's director for four of its six years, and she said the increase in campers this year forced her to hire a few more counselors at the last minute.
"I've always had four groups (of campers)," Nickell said, explaining that she has a maximum of 18 campers per group and needs two counselors per group. "I think the first summer I had three and had to make it into four, but this summer I had six."
The camp runs 11 weeks, starting the week of Memorial Day and ending the last full week before USD 204 goes back to school. It is based at the Bonner Springs Community Center. Children can be dropped off from 7:30 a.m. to 5:30 p.m., though structured activities generally run from 9 a.m. to 3:30 p.m. Those who come before or stay after the activity period can have free play in the Community Center gym or read books or play board games in the multipurpose room.
Participants register by week rather than for the entire duration of the camp, so attendance fluctuates, but this year has seen higher average numbers.
"Last year, my highest week was 67, and that was my highest week ever since I've been here," Nickell said. "This year, I had one week where we had 93, 97, something like that, register for the week."
Most of the children do attend the camp for most of the summer, though, Nickell said. And the children have been coming from several surrounding communities, including Basehor, Shawnee and Piper.
To promote the camp, the department sends flyers to elementary schools in the Bonner Springs and Basehor school districts. This year, they also put up a sign in Centennial Park.
"But we didn't put it up 'til like the week before camp started. My numbers were already higher, but once we put that sign up, I was getting quite a few calls."
But Nickell said she thinks most people find out about the camp by word of mouth. She can't otherwise explain participants from Piper or Shawnee.
The reason may largely be due to the price. The camp is $85 a week for Bonner residents and $95 for nonresidents. The city also doesn't charge extra for any of the field trips. Nickell said that last year she helped the city compare its camp fees to other programs in the area.
"Most places that are even around $100 still will charge you activity fees for all the extra stuff," she said. "Someone last week came in and was asking me what we charge... and he's like, 'I can't hire a babysitter for that.' Here, they're not getting one-on-one time like they would with a babysitter, but I think they're getting a lot more activity and social interaction."
The camp finds most of its counselors among Bonner Springs High School students, and with the larger number of campers, Nickell said it has been more of struggle to make sure there are enough counselors working each day.
"I actually thought I had overhired this summer," she said. "My first week, when I was scheduling them, they said 'We don't have very many hours,' and I said, 'Let's just see how the summer goes.'"
With the influx of campers, Nickell found that even after adding staff she has had to make most of the counselors work five days a week rather than the usual four-day rotation.
And the camp keeps the children busy, too. Each week, there is a theme that guides crafts and special activities of the week. Last week was drama week, which culminated in a "variety show," with each camper group coordinating a few performances.
But they also walk to Bonner Springs Elementary School for lunch each day, where they take advantage of the school district's free summer lunch program — another bonus for parents looking to save money. Before that, or in the afternoon, groups of campers walk to Kelly Murphy Park, the BSE playground or Lions Park to play games. On Tuesdays and Thursdays, they take the Tiblow Transit to the Bonner Springs Aquatic parks, and at least one day a week, they walk to the Bonner Springs City Library.
"Some of them come, and if they're not kids who want to be active, it's not a good fit, because they're mostly walking and playing," Nickell said. "But most kids like it."