KU

offering new science master's program in Overland Park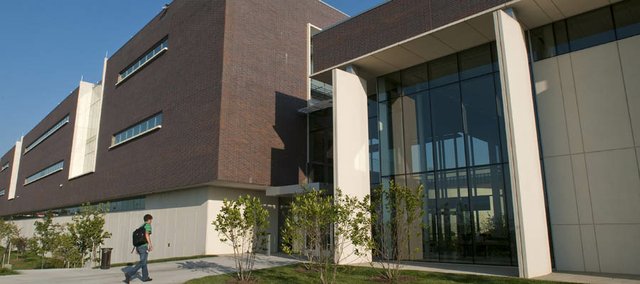 Kansas University is offering a new graduate degree program at its Edwards Campus in Overland Park that officials say will prepare students for scientific jobs in the business world.
The degree is called a Professional Science Master's, a type of program that did not appear anywhere until the mid-1990s.
"It fills a vacancy in graduate education," said Mark Jakubauskas, who's serving as director of KU's first PSM program, in environmental assessment.
PSM programs, Jakubauskas said, are designed for people who've earned a bachelor degree in the sciences looking to move up to a midlevel scientific career.
The PSM is a professional degree along the lines of a Master of Business Administration, differing from the focus on academic research found in a traditional graduate program in science.
In addition to scientific training, the programs also offer instruction on business skills such as project management, technical writing and finance.
KU's program will be the first of its kind in the Kansas City metro area, though PSM programs have been growing rapidly across the country.
The journal Science reported there were about 130 PSM programs in 2009, and that number has more than doubled now to 300, according to the National Professional Science Master's Association.
KU's first PSM program will focus on environmental assessment, with courses taught by faculty from the KU Environmental Studies program and by lecturers already working in the field.
It will prepare students for environmentally focused jobs with national, state and local agencies or with Kansas City-area engineering firms such as Burns and McDonnell or Black and Veatch, Jakubauskas said.
"We think it's well-poised to grow," he said.
More concentrations — perhaps including bioscience, biotechnology or geographic information systems — may come in the future.
Jakubauskas said KU would aim to enroll people who've already been working for perhaps 10 to 20 years and are looking to move up to a midlevel scientific career, though recent graduates from bachelor's-level science programs might also be interested.
Students should be able to finish the program, which consists of 33 credit hours, in two to three years while working full-time, he said.
The cost for in-state students, or Missouri residents in the KC metro area, will be about $537 per credit hour, making for a total cost of about $17,700.
Danny Anderson, dean of KU's College of Liberal Arts and Sciences, said the PSM program was part of an effort by the College to create new career-focused degree programs, especially at the Edwards Campus. Another possible program in development is a Bachelor of Applied Science in biotechnology, where students who've earned associate degrees could learn to work in research labs or help run clinical trials.
"We really are looking at ways the new degrees we create are directly related to areas where we want students to get better jobs," Anderson said.