Linwood camp hosts program for kids with sickle-cell disease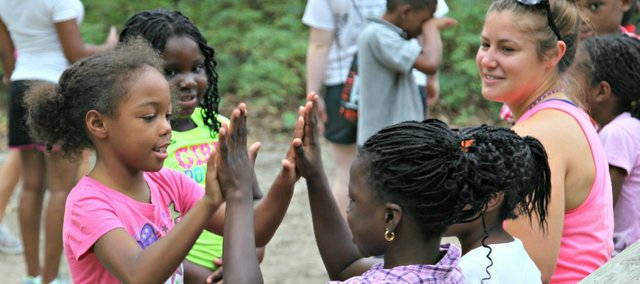 Linwood — Several Kansas City youths battling sickle-cell disease got the opportunity to spend the last five days at summer camp, and they did so right in Basehor's backyard.
Turning Point, an organization that focuses on helping children and adults with chronic illnesses, has teamed up with the University of Kansas Hospital and Children's Mercy Hospital to send about 50 kids ages 6-14 to Camp Courage, a five-day, four-night program at Tall Oaks Camp in Linwood.
"This camp has been going on for probably 20 years," camp director Annie Seal said. "Several years ago, Children's Mercy was looking for a sponsor for Camp Courage, and Turning Point was a perfect fit for that. Prior to that, Children's Mercy just did the camp on their own, but they needed an outside sponsor."
Seal, the director of children's programs at Turning Point, has been involved with the camp for 16 years. A majority of the campers are from inner-city areas, so they don't have regular opportunities to experience various camp activities.
All campers either have sickle-cell disease — a hereditary disease that affects the red blood cells — or have siblings with the disease. Seal said an educational piece about the disease is incorporated into the curriculum.
Other activities include swimming, fishing, riding horses, archery and arts and crafts.
"Our goal is to allow them to have experiences they might not have on a regular basis," Seal said. "The main thing we do is just have fun and make new friends."
Campers arrived at Tall Oaks on Saturday morning and stayed through Wednesday. There was a $35 fee to attend the camp, but Turning Point made sure campers who couldn't afford the fee were still able to attend.
"Because of incurring medical costs, you might be less likely to come to something that will help you emotionally," Seal said. "We raise money and, in conjunction with Children's Mercy, we make it so any kid is able to come regardless of their ability to pay."
Turning Point, a Leawood-based organization founded in 2001, joined forces with the KU hospital last November.
Counselors were comprised of camp staff, college students looking to work in children's medical professions or former campers.
"That's really great for the kids to see their peers or people with sickle-cell disease working or going to college, then coming back to help out," Seal said. "Camp gives (the kids) an opportunity to meet and connect with other kids who have sickle-cell disease, so they can be around kids they can relate to."
Additionally, Cerner Corporation sent a group of volunteers to help with arts and crafts on the last full day of camp.
It's not uncommon for campers to get emotional at the end of the week, but Seal added some of them are able to stay in touch through school or frequent hospital visits throughout the year.
"A lot of them will ask if we can make it longer, but we always remind them that we'll have it again next year," she said.