BLHS

alum Patton earns

MVP

honors in all-star game at Kauffman Stadium; William Jewell awaits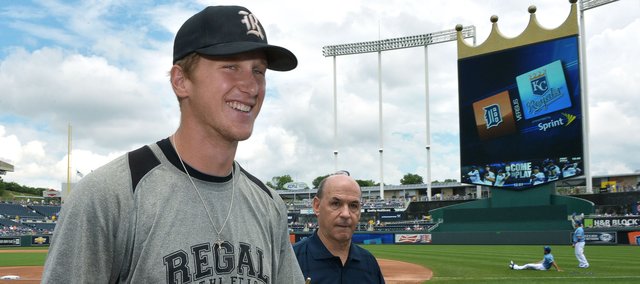 As soon as you take the field at Kauffman Stadium, Basehor-Linwood alum Jared Patton says, you feel like a major leaguer. The 84-foot tall Crown Vision video board towers over the outfield while Kansas City's famed fountains dance just beyond the wall.
Suiting up for the Ban Johnson All-Star Game earlier this month, Patton finally received an opportunity he missed by just a few years when the BLHS and Bonner Springs baseball teams ceased playing the Fred White Classic at The K before he reached high school.
Patton, who turns 21 on Aug. 8, authored a memory of his own at the stadium, earning most valuable player honors in a 1-1 tie between the B All-Stars and the J All-Stars, doing so in just his first summer playing in the league.
"I wasn't really nervous about it," Patton said of the experience. "I just looked at it from the point of view of how many opportunities would you get to play at Kauffman Stadium?"
Patton knows all too well how fleeting opportunity can be. Tommy John surgery in high school nearly cut short his playing career, but he bounced back in time to help lead BLHS past Bishop Ward in their 2011 regional championship game encounter, picking up the save from the mound one game after belting a game-winning home run against Tonganoxie in the semifinals.
At Kauffman Stadium last month, Patton was also responsible for the tying run. He went 2-for-2 in the game and scored his team's only run from third base on a bases-loaded walk.
"I wanted to perform well, but I wasn't worried about it," Patton said. "I think that's when you play the best baseball: when you're not worried about stats and are just going."
Patton recently wrapped up a summer during which he played close to 30 games for his Regal Plastic team in the Ban Johnson League. He'll now soon report to William Jewell College, where he plans to finish his college baseball career and study both psychology and physical therapy.
Patton's introduction to college ball came on the heels of a strong showing at a catcher's camp as he returned from injury during high school. There he attracted Division I scouts, eventually signing a letter of intent to play for the University of Nebraska-Omaha. He played in 22 games, starting eight. But, Patton said, "things just didn't work out" at UNO. Patton's sophomore season, 2013, was spent at Southeast Community College in Beatrice, Neb., where he joined fellow BLHS alum Nathan Quigley. Patton turned in a stronger season, appearing in 35 games and compiling a batting average of .273 with three home runs, 23 runs batted in and 19 runs scored.
Pretty soon, the 6-foot-5, 205-pound catcher again stood out to scouts and was contacted by William Jewell coaches to see if he'd be interested in coming to Liberty, Mo.
"A big part of it is academics," Patton said of his decision to transfer to William Jewell. "One of the reasons I'm going there is I want a good degree from a good college. Second of all, they seemed to want me. It's important when you play college sports that the coaches want you to play for them. You're not just a number on a roster to them. Them wanting you makes it that much more fun to play for them."
Becoming a desirable player in the eyes of college coaches follows by not long a short period during which Patton couldn't play at all. With an elbow all but devoid of ligament, Patton had to take a year off to rehabilitate following corrective surgery. The unpleasant role of spectator fueled a determination to return that he hasn't forgotten when less severe injuries have bugged him in college.
"Not being able to play while also watching my friends play, made me realize at the time to try everything I can to get back better than where I was," Patton said.
One could argue that, game-winning home runs and clutch saves as a Bobcat aside, Patton has not yet peaked.