Quilting group members no strangers to Leavenworth County Fair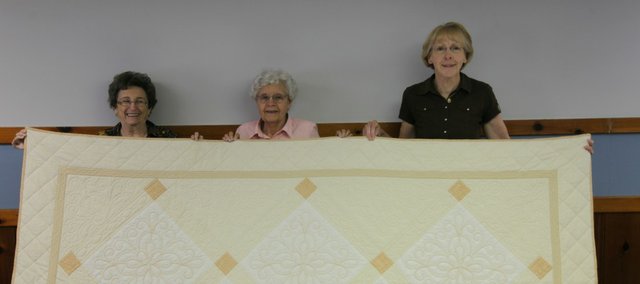 The St. Joseph Quilters group has constructed a quilt and then raffled it off at its church's annual bazaar the past 23 years in Leavenworth.
For its 20th anniversary in 2010, quilter Alice Schneider had an idea: set a goal of raising $2,010 in honor of the year.
Fellow quilters weren't sure about her lofty goal; the quilt usually had brought in $400 to $600 in raffle money each year previously.
But in 2010, the group made its goal and then some: $2,544 to be exact.
"And by golly, didn't we make it," said group quilter Brenda Hruska. "Forty-five of that was mine."
Fellow group member Mary Alice Hund chimed in.
"A few were mine, too," she said.
Schneider said all the group members loved the quilt.
Leavenworth County Fair judges apparently did, too.
The quilt won grand champion in its open class division. Hruska said the 2004 pattern came from Quilting Bits and Pieces in Eudora, and the group named the quilt Radiant Bethlehem Star. There was a star pattern in the middle of the quilt with setting blocks that reached out from the star. The pattern also incorporated wheat and daisies. Schneider said it also might have won because it's a difficult pattern.
"Not everyone attempts it," she said.
The quilters, who are from St. Joseph Catholic Church in Leavenworth, have been entering a quilt at the fair in Tonganoxie since 2004. The quilters' first entry also was grand champion. Their entries generally have done well at the fair, Schneider said.
She said she enjoys attending the fair and chatting with others who are looking at the quilts. She also usually has some raffle tickets with her just in case anyone wants to enter for a chance to win the quilt. Since the group started entering the Leavenworth County Fair, that year's entry is raffled off at the church's annual bazaar. Otherwise, quilters sell tickets before and after Mass at the church, with all proceeds going to the church.
"We sit in back of church and trip people as they go out," Schneider joked. "We make it fun. You've got to make it fun."
Making the quilt for the fair usually is an 11-month process.
The church's bazaar takes place each September, so quilters are busy making other items to sell at the bazaar between the fair, which takes place in early August and the bazaar, which occurs in September.
"We'll make anything that we think will sell," Hruska said.
That includes baby quilts, table runners and bibs.
"If we have an extra quilt, we'll put that in," Hund said.
The quilters also make quilts for the annual German and Irish festivals the church has each year. And if a priest at the church is assigned to another church or retires, the group makes a quilt for the outgoing priest.
Hund is an original member of the group, which first met each Monday in a small room in the parish office in 1989. Hund was part of that original group, as were neighbor Mary Lingenfelser and Pat Zeugin. Delores Mayer, Rita Dahl and Monica Fink also were part of the original founders.
Dahl and Fink are sisters and are sisters-in-law to Hund. Mayer still is a member of the group. Lingenfelser and Zeugin now are deceased.
Joining Mayer, Hruska and Schneider as regulars on Mondays are Linda Summers, Diane Dempsey, Pat Schuler and Betty Olberding. They now meet in the former St. Joseph Grade School just north of the church at Broadway and Miami streets in Leavenworth.
This year's fair entry that will be raffled off in September is titled Serenity, and the colors are beige and tan. The pattern resembles several diamonds.
"We chose those colors so it would go in anyone's home," Hruska said about the neutral colors. "Anyone who won that quilt, it would match their home design."
Hruska, Schneider and Hund said they look forward to the Leavenworth County Fair each year. They said there isn't a specific type of quilt in which they specialize. Group members' pattern fortes differ, so they tend to try a wide range of quilt types.
However, they noted that having a nice big ribbon on the quilt never hurts in selling raffle tickets for the bazaar.
Judging took place Tuesday after The Mirror's deadline. To find out results from the quilt division, go to tonganoxiemirror.com.