Basehor-Linwood strength program concludes historic summer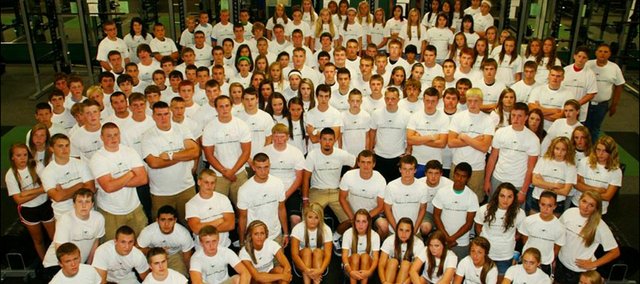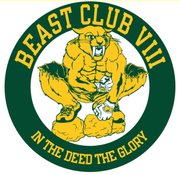 Basehor-Linwood's summer strength and conditioning program concluded one of the best summers in the program's eight-year history.
Coach Ross Schwisow said the program had its highest average attendance at 290 kids per day. Meanwhile, 216 students made the Beast Club — attendance of at least 90 percent — with 164 of them having perfect attendance. All three numbers, Schwisow added, were the highest for the program.
Other Beast Club criteria included passing a conditioning test that involved 16 110-yard sprints. Those making 100 percent attendance will be recognized in a poster and summer highlight video.
Additionally, 20 BLHS seniors made the 400 Percent Club after a fourth straight summer of perfect attendance: Amber Garver, Alex Gorman, Julie Lough, Carissa Mikesic, Sara Rehm, Hailey Robinson, Katie Tindell, Avery Fliger, Johnny Fulkerson, Dalton Inlow, Alex Jackson, Broc Lindsay, Otto Metzger, Jay O'Bryan, Jake Phillips, Sean Potter, Logan Potts, Eric Purrington, Layne Roberts and Austin Rowland.
This year's 100 Percent Club follows.
• Anya Armstrong
• Emma Armstrong
• Peyton Bahr
• Andrew Bartko
• Cassandra Beattie
• Clay Beebe
• Maddie Bergman
• Mackenzie Bizzell
• Jackson Brimblecom
• Marisela Brown
• Mauryn Brownback
• Gianna Burks
• Chandler Carey
• Nick Chaney
• Caleb Clark
• Marriah Clayton
• Lauren Cline
• Dean Cochran
• Garrett Cook
• Jacob Cook
• Bevin Coon
• Emille Crutchfield
• Malorie Crutchfield
• Maegan Cunningham
• Zoey DeLeon
• Hanna Dickey
• Dylan Donnelly
• Jenna Donnelly
• Kailey Drennon
• Katie Eberth
• Eric Eskina
• Zach Ferguson
• Nick Fisher
• Sami Fisher
• Zach Fisher
• Avery Fliger
• Carson Fliger
• Landon Fliger
• Nolan Ford
• Sarah Ford
• Colten Foster
• Dominic Foster
• Jace Friesen
• Johnny Fulkerson
• Derrik Garner
• Macy Garner
• Amber Garver
• Carly Gore
• Dean Gore
• Keegan Gore
• Alex Gorman
• Laina Griffith
• Mikala Grover
• Aynsley Gunn
• Cole Hale
• Boston Henry
• Jacob Hicklin
• John Hopper
• Madison Howard
• Dalton Inlow
• Alex Jackson
• Allie Johnson
• Casey Jones
• Cody June
• Zach Kamm
• Taylor Keesee
• Nathan Kenton
• Brett Klamm
• DJ Klamm
• Jon Kraus
• Tristan Krouse
• Maddy Langford
• Lauren Lawson
• Abby Lee
• Broc Lindsay
• Morgan Lindsay
• Morgan Logsden
• Julie Lough
• Wyatt Loughry
• Colyn Lucas
• Jamilee Malinowski
• Cavan McBratney
• Cole McBratney
• Cory McCleary
• Madison McDowell
• Jennica Messer
• Caleb Metsker
• Otto Metzger
• Carissa Mikesic
• Michayla Mikesic
• Reece Miller
• Tyler Miller
• Mckinsey Moody
• Luke Murphy
• Dylan Mussett
• Jenna Mussett
• Brady Myers
• Peyton Myers
• Alexis Nichols
• Chris Nichols
• Jackson Nichols
• Corbin Nirschl
• Courtney Norris
• Jay O'Bryan
• Kylie Ogden
• Courtney Payne
• Paul Peterson
• Jake Phillips
• Joe Phillips
• Justin Phillips
• Sarah Pickert
• Ryan Potter
• Sean Potter
• Logan Potts
• Cullen Povilonis
• Eric Purrington
• Peyton Reeves
• Sara Rehm
• Gracen Richardson
• Austin Roberts
• Layne Roberts
• Courtney Robinson
• Hailey Robinson
• Chas Rollo
• Austin Rowland
• Tucker Rowland
• Alex Rucker
• Abe Ruffcorn
• Joseph Ruffcorn
• Nicole Rutherford
• Jordan Salb
• Jackson Sherley
• Katelynn Singleton
• Megan Sixta
• Jesse Smallwood
• Britney Smith
• Connor Smith
• Kayla Smith
• Ryann Smith
• Sierra Smith
• Kade Tatkenhorst
• Kurtis Tatkenhorst
• Lacey Tavis
• Tanner Tavis
• Katie Tindell
• Rachel Tindell
• Cassie Tucker
• Lukas Tucker
• Cody Van Gosen
• Madison Van Gosen
• Mark Vitt
• Tyson Wachter
• Jensen Walcott
• Quinn Walcott
• Brent Waller
• Jaime Weible
• David Whaley
• Madison Wheeler
• Mikayla Wheeler
• Aubrey White
• Caleb White
• T.J. Williams
• Thomas Williamson
• Alex Yanos