2013 spring sports season in review: Baseball, swimming records fall at Bonner Springs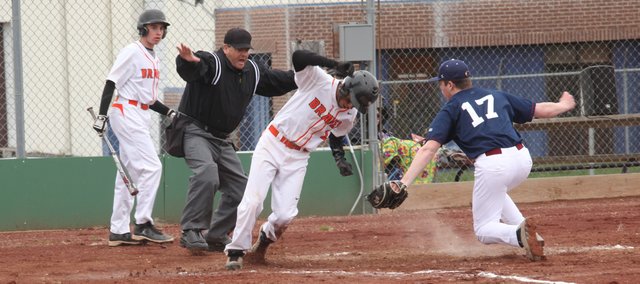 As far as spring sports seasons go, there have been few, if any, like that of 2013. This is to say nothing of how Bonner Springs student-athletes fared; that the season even took place was itself a minor miracle.
Coaches of all experience levels reported that they hadn't seen anything like this past spring season, not after snow delayed every season-opener not held in a swimming pool and not after winter weather conditions were still a factor as Cinco de Mayo approached.
And yet one still could develop a nice bronze — or if not careful a lobster red — at the season's final event, the May 24-25 state track and field championships in Wichita.
Here's a quick look at the recently completed spring season and the stories we'll remember it for.
Baseball
The wins simply weren't there this season for BSHS. The season, still, will be recalled for other reasons. Senior Luis Gardea finished his assault on the BSHS record books, breaking the career mark for stolen bases set in 2009.
Gardea's 43 stolen bases topped Chance Crawford's previous record of 36 and set the standard for precisely the style of play coach Scott Lero advocates: swift baserunning and a steady diet of speed.
Also in his final season was Logan Terrell, who will continue his baseball career at Pittsburg State University. The move to outfield this season suited Terrell, who will continue playing the position at the next level. Both Terrell and Gardea received first-team All-Kaw Valley League honors in the outfield for 2013.
The majority of the Braves' young team will return next season, something for which it is already preparing: the first-year K-7 Summer League is underway and BSHS is due to compete in a weekend wooden bat tournament in Shawnee.
Boys golf
Tristan Abts, Marc McClain and Jake Laing helped lead a BSHS boys golf team that won a Class 4A regional championship in coach Steve Miller's debut season. McClain and Abts placed second and third, respectively, in regional play. The Braves put together a consistent season, staying at or near the top of many of its tournaments en route to sending the entire team to the May 20 4A state tournament in Cheney. Tristan Abts will continue golfing at Johnson County Community College next season.
Girls soccer
If BSHS doesn't advance to a state tournament one or more times within the next three seasons, it will be because our spring climate has fully shifted to blizzards in May.
The Braves were just one game shy of the state tournament this year, coming up short against league foe Piper in their regional final. A nice mix of youth and experience could be found this season with seniors like Haley Hoffine, Skyler Taylor, Anna Deegan, Jessica Moulin and Tessa Newberry sharing the field with freshmen scoring threats Julianne Jackson and Miyah Hightower.
Jackson and Hightower took little time to establish themselves as efficient finishers on the offensive end. Furthermore, Hightower shared an almost unconscious rapport with her older sister, junior Bailey Hightower, setting up one more season to keep opposing defenses on their toes. Bailey Hightower, meanwhile, was recently named first-team all-state and was joined on the team by Jackson, a second-team selection.
Softball
If tears flowed for seniors Cassady Holloway and Geena Harris after the Braves' season ended in the regional title game against De Soto last month, it was likely only because they wouldn't again share the exhilarating ride that was the tail end of the 2013 season.
The two were juniors on a 2012 team that halted an eight-game losing streak to won seven of its last eight games.
This season, although looking dire early on, differed only in that the Braves went even deeper in the postseason. BSHS closed the regular season with victories against Tonganoxie and St. James Academy before upsetting league rival Basehor-Linwood in the regional semifinals. With players like Alexis Tendick, Meagan Laughlin, Mikaela Bennett and Annie and Katie Carpenter returning, this young team's continued development may translate into 2014 beginning in much the same way 2013 (and 2012) concluded.
Girls swimming
It didn't take long for the BSHS girls swim team to make a statement in Preston Williams' first season as coach. Freshman Robyn Lewis set a new school record in her first event, the 200-yard freestyle before going on to help set four new school records.
Though the season began on a high note for BSHS, complacency was never an issue for the team. Times continued to improve and records fell throughout the season all the way until the final weekend. BSHS improved on its school records in the 200-yard freestyle relay and 400-yard freestyle relay before improving to 15th place in the latter in the consolation finals of the Class 5-1A state championships. Lewis was joined by Cheyanne Miller, Madison Stumbough and Stephanie Rose on the relay team.
Boys tennis
Quinton Schneck and Jack Klingele advanced to the state tennis tournament but saw their bid for a medal end early. Schneck, who also advanced to state in 2012 alongside Spencer Bush, may test the waters of singles play next season. Monday night tennis practices this summer will go a long way toward determining who plays where in 2014.
Track and field
BSHS senior T.J. Kimbrough-French gathered what energy remained to exclaim that medaling in his final race as a Brave, the boys 4x800-meter relay at the May 25 state track and field championships, felt "absolutely amazing." Kimbrough-French, Brandon Dodson, Austin Schuler and William Moore placed seventh in the event. Before running at Johnson County Community College, Kimbrough-French plans to represent BSHS once more at the July 27 Shrine Bowl' cross-country event in Topeka. Also in Wichita, Anthony Kubas and Jordan Jackson engaged in a friendly rivalry as the basketball and football teammates competed in the triple jump — their final event before preparing for senior year. They'd later stand together at the awards stand, Kubas placing fourth and Jackson placing sixth in the event.
Kyle Dumler will also return in 2014, no doubt hungry to qualify for state in Class 4A's throwing events after just missing the cut in an exceptionally difficult regional meet in Baldwin City. Dumler's 146-04 discus throw would have earned him fifth at state, as would his 49-10 in the shot put.