Farmers' market vendor offers baked goods, fresh produce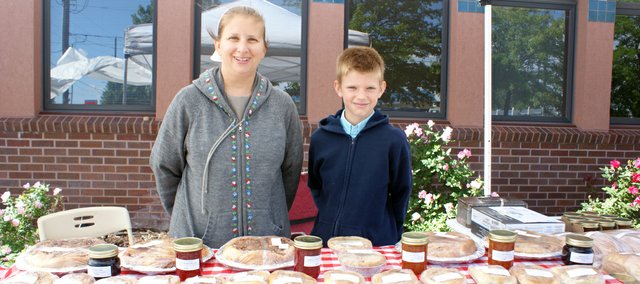 When Shannon Cox was little, it was mom who made dinner and Shannon who made dessert.
Cox has been baking since she was a child, she said, so she's had plenty of time to perfect her recipes. But it wasn't until her family moved to Basehor a couple of years ago that she decided to start selling her baked goods.
Now, as a vendor at Basehor Historical Society's Farmers' Market, she offers jams, cinnamon rolls and many kinds of breads, including the traditional wheat and white, as well as zucchini and banana.
"Everyone seems to like the cinnamon rolls," Cox said. "And the pies seem to be popular."
Once produce starts maturing, Cox also will sell heirloom tomatoes, squash, zucchini, cucumbers and onions.
After living and gardening in Missouri before the move to Kansas, Cox said, growing produce has been a learning experience.
"In Missouri, you just plant something and walk away and it grows," she said.
Kansas has brought new kinds of bugs, drought and other gardening difficulties she didn't expect, she added. Although her garden is a bit like quick sand after heavy spring rains, she still expects to have a decent crop to sell at the market.
As her produce garden matures throughout the summer, she'll also sell baked goods and jams with seasonal fruits. Some of her jam flavors include strawberry rhubarb, blackberry and carrot cake, which tastes exactly like its namesake, she said.
The Basehor Historical Society's Farmers' Market runs from 4 p.m. to 7 p.m. every Wednesday and from 8 a.m. to noon every Saturday at the north side parking lot of Reece and Nichols, 155th Street and State Avenue. For more information about the market or to become a vendor, contact Iris Weston at 913-724-1243.
Keep an eye out for more farmers' market features in future editions of The Chieftain.