With big ambitions, experienced
BLHS

boys basketball team busy in June; adds 6-5 transfer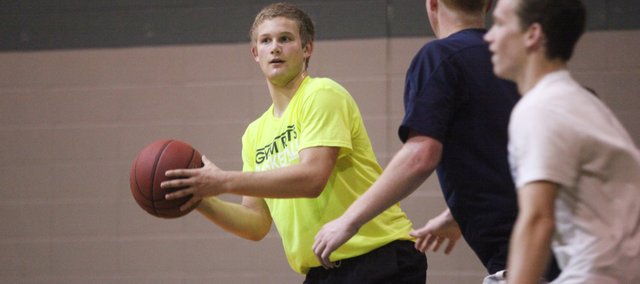 Photo Gallery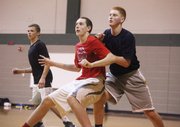 BLHS boys basketball's busy June
With up to nine seniors returning and the addition of 6-foot-5 transfer Pat Muldoon, sights are set high for the BLHS boys basketball team.
Between scrimmages on a recent morning inside Basehor-Linwood's auxiliary gym, a 6-foot-5 junior-to-be soared upward during a succession of dunks, rocking the rim. Moments later, he and his new teammates were back at it, he towering over shots on defense and dishing to J.P. Downing for a pretty windmill-esque layup on offense.
He's Pat Muldoon, formerly of Kaw Valley League foe Mill Valley, and by no means a stranger to his new teammates.
"That was a big bonus for us," Chase Younger said. "I knew he was thinking of coming here. But I was still surprised."
Muldoon joined a BLHS boys basketball team that is in the thick of a grinding June that will see it practice or play basketball in 30 of the 34 days that followed Memorial Day before many players return to playing AAU ball in July.
He left a Kaw Valley League team with its own state aspirations for another that won't accept a conclusion to 2013-14 not involving a ring. With a senior class of an upward of nine players and the bitter taste of its 2013 sub-state exit still lingering, a sense that there weren't enough days in June to prepare for 2013-14 was ever-present.
"They're competing, they're knowing what we're doing, they're listening, they're coaching each other again. It's old Basehor-Linwood basketball," BLHS coach Mike McBride said. "It's been a lot of fun. It's definitely got my excitement back up, because last year was a long year."
From senior Ben Johnson leaving the team mid-season to suspensions and injury, 2012-13 was less than smooth for McBride and differed greatly from the preceding season's 4A state championship run.
Still, of the Bobcats' six losses, five came against the eventual top three Class 5A teams, eventual 4A champion Ottawa and at Topeka Hayden.
"Tell me who had a tougher schedule than that," McBride said.
Nearly all of the team's scoring and rebounding returns, with Younger and Downing heading a deep senior class that also includes fellow guard Zach McNabb and forward Tim Sanders. Jahron McPherson, who dazzled at times late in the season, also returns for a sophomore season.
And though the 6-2 Sanders impressed McBride, the addition of Muldoon lifts much pressure off Sanders — and junior Carson Fliger — to be the Bobcats' primary post presence.
"These guys are all guards, so they run and they play together really well," McBride said. "And Pat, with as agile and athletic as he is, gave us a 6-5 kid that can run with us, that doesn't really slow us down and doesn't change what we're doing."
As a sophomore, Muldoon played a large role on a 20-4 Mill Valley team that finished third in the Class 5A state tournament last season. Having transferred from another district, Muldoon will likely sit out until after winter break, but this season's schedule means he'll miss just four games.
"He's going to bring a lot," Younger said. "He's going to make people actually have to guard everybody on the floor."
McNabb added: "We're so deep, we can have anyone play and we trust everyone to play."
Absent only McPherson and Sanders, who are participating in summer football activities, the Bobcats impressed McBride at a recent MAYB tournament, winning three games by at least 50 points.
"This team is relentless," McBride said. "They're not going to quit like we did a couple games last year. They understand the goal at hand."
And like that 2012 state title team, on which Downing and Younger played significant roles, McBride said this year's squad figures to be able to shake off any regular-season losses along the way.
"I think it's going to be like 2012," McBride said. "I don't think a loss is going to deter them from what they're going to accomplish."
McBride figures his senior class has played more basketball than any players he's ever coached, between involvement at the youth level and eventually AAU during each offseason. He said he already noticed an almost unconscious connection amongst players and coaches, evidenced by the Bobcats' ability to change plays on the fly during the MAYB tournament.
A June 16 camp at the University of Missouri awaits as does another MAYB tournament in Olathe and the Shawnee Mission School District area. After that, a maximum of 26 games remain for much of a team driven to see it through to the end.
"This is a fun team to play on," Younger said, later adding: "We've all been playing together since little kids, so we just want to make it worth everything. I think we like to make each other mad and get into each other's heads like we always do. Like we're in the backyard or something. Best friends just out there playing basketball."