New-look
BSHS

girls basketball team coming together this summer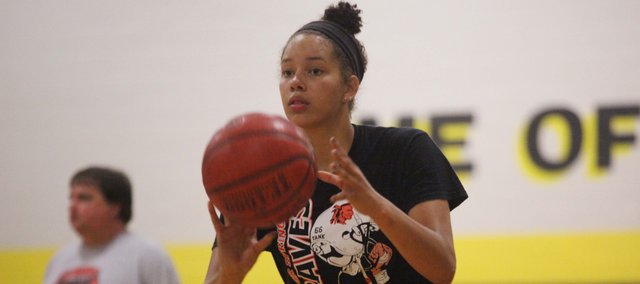 Photo Gallery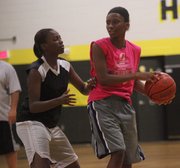 BSHS girls basketball gets summer play underway
A deep junior class and talented group of sophomores will also be led by senior Kennedy Bizzell.
With the graduation of Anna Deegan and Haley Hoffine, the Bonner Springs girls basketball team parted with at least 45 percent of last season's offense and the final two players to lead the Braves to their first state tournament.
Though next season's iteration of the team will look decidedly different, regression isn't necessarily in the cards, evidenced by a 5-2 showing over the weekend at a MAYB summer kickoff tournament in Wichita.
To again challenge for the Kaw Valley League title in 2013-14, BSHS coach Clay Oakes is counting on both a deep junior class and multiple sophomores ready to take the leap.
"The thing I really like about our incoming sophomore group is that they have a lot of basketball instincts," Oakes said. "They're able to see things happen and think outside the box and do something about it. Our juniors have that varsity speed, but this sophomore group will catch on real quick."
One sophomore who won't need to ease into anything is Julianne Jackson, who stepped in immediately as a freshman, even leading the team in scoring on multiple nights. Her 11 points per game for the 17-4 Braves last season was second only to Deegan and makes Jackson far and away the Braves' top returning scorer. She also led the team in rebounding with 7.6 per game.
"Julianne's leadership on the court and the way she plays, how hard she plays, is second to none," Oakes said.
BSHS won't be without a senior leader, however, as Oakes said Kennedy Bizzell has embraced that new, if foreign, role this summer. Bizzell added that the summer has been and will continue to be vital for her and her new-look team to learn how to play together. After finishing third in its five-team bracket at the beginning of the weekend, BSHS won out to place first in its consolation bracket.
"Altogether we play really well together," Bizzell said. "It's not like we have that one really selfish person; we're always looking to pass to each other. It will be different than last year."
Although Jackson took little time establishing herself as a scoring threat, opposing defenses knew it was Deegan (15 ppg) and Hoffine (9 ppg, 3.6 assists per game) who would handle the ball most often. After the last few years they had, after all, players like those two are impossible to conceal from scouting reports.
"The key on this team here," Oakes said, "is that it's more of team-oriented squad. They share the ball well and any one of them can hit a shot at any time."
Junior Caitlin Reed, who transferred from Bishop Ward last spring, is picking up the point guard duties this summer and is expected to run the offense come winter.
"It's going to be different feeding off someone (new)," Jackson said.
Oakes said that sophomores Miyah Hightower and Tanya Hernandez also received a lot of playing time over the weekend, with Hightower starting the Braves' final two games.
"Those will be the two I anticipate receive the most playing time as the year wears on and summer goes on here," Oakes said.
The heart of the team will be its junior class, with Kaleigh Taylor leading a group that also includes Reed, Abrise Sims and Mikaela Bennett.
In Wichita, each game the Braves played featured two 16-minute halves with regulation clock stoppages. If anyone wasn't in shape after the first few games, a triple-overtime victory against a Missouri club team called the Extreme Ballers should have had that covered. After trailing by 10 for much of the second half, BSHS pulled within a basket before Oakes drew up a play that Sims cashed in on, hitting a baseline jumper to send it to overtime. Each of the first two overtimes ended with BSHS fouling its opponents inside two seconds, with Jackson fouling out before the third overtime. Despite the absence of Jackson, BSHS was able to pull away for a six-point win.
The Braves also ran away with the second half against Buhler in the bracket's title game. Other teams the Braves saw over the weekend included a state-ranked Hesston team, a 5A team from Colorado and Gardner-Edgerton.
BSHS will return to tournament play this weekend in Salina for a MAYB Class 3A/4A tournament.