All-night Kaw Valley Relay For Life begins Friday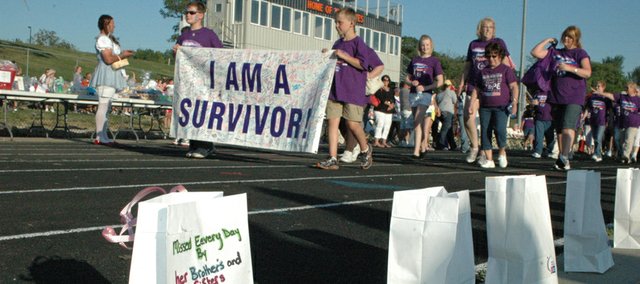 When Jonna Harris of Bonner Springs first entered a team in the Relay for Life of Kaw Valley in 2004, she thought she already had too many reasons to create a team.
Event Schedule
While games and events are planned throughout the night, the following is a basic schedule of events Friday at the BSHS football field and track:
• 5 p.m. — Silent auction and luminaria sales begin, concession stand opens
• 5:30 p.m. — Survivor Rally in BSHS cafeteria
• 6 p.m. — Kidz Corner and bounce house open
• 6:55 p.m. — Survivor picture
• 7 p.m. —Opening ceremony
• 8:45 p.m. — Messages to Heaven
• 10 p.m. — Luminaria Ceremony
• 10:30 p.m. — Fireworks display
• 11:30 p.m. — Volleyball tournament
• 1 a.m. — Fight Back Ceremony
• 4 a.m. — Breakfast Scramble
• 6:45 a.m. — Closing Ceremony, followed by final lap
Her family, the Bucks, had been hit by cancer twice: Her mother had been diagnosed with ovarian cancer in March of that year, and her father had been diagnosed with leukemia and prostate cancer in July. So contributing to the relay, then a July event, and raising funds for the American Cancer Society seemed like a good idea.
Less than a year later, cancer struck again. Harris herself was diagnosed with breast cancer in January 2005. A few months after that, her father-in-law was diagnosed with bladder cancer.
"So we had four people in 14 months diagnosed with different kinds of cancers," Harris said.
That's why Harris's team has remained involved in the relay to this day; she said since then, she has had four aunts and a sister-in-law also diagnosed with various forms of cancer. So finding a cure is a priority for her family and her team, Band of Survivors — seven of the nine team members are cancer survivors.
"We support the relay because it doesn't focus on any one cancer," Harris said. "It's also a good way for all of us to come together and really helps us celebrate survivorship."
The Kaw Valley event represents the communities of Basehor, Bonner Springs and Edwardsville in its effort to raise funds for the American Cancer Society.
This year's event is set for Friday and as always takes place at the Bonner Springs High School track. Some activities begin as early as 5 p.m., but the opening ceremony is set for 7 p.m. The all-night event challenges teams to keep at least one team member walking the track to symbolize the cancer patient's experience with the disease, from the sunset of diagnosis through the dark hours of treatment, to the dawn of the completion of the disease, whether that is remission or moving on to the next life.
The Kaw Valley relay includes several events allowing those who are not members of a team, but would like to attend, to participate. Events will be cancelled for inclement weather.