Farmer grows passion at market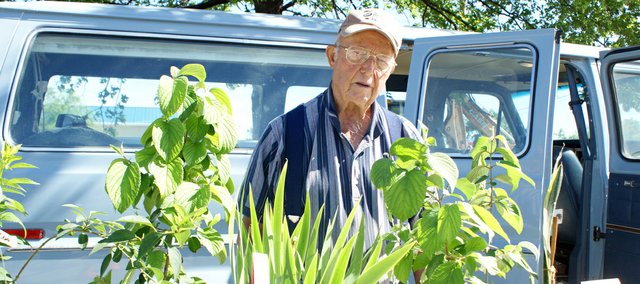 Many people who know Joe Nick know that he loves to garden, and throughout the summer, residents can stop by the Basehor Historical Society's Farmers' Market to buy the fruits of his labor.
Nick served as the postmaster for many years in Basehor, and he also faithfully kept a garden every year. Born into a family that lived off the land, Nick appreciates a hard day's work, he said, and is happy he can keep up with his passion.
At the Saturday market, Nick sells plants and flowers early in the season while the rest of his produce continues to grow. Soon he'll be offering onions, potatoes, squash, herbs, rhubarb, berries and more.
Nick has lived in Basehor since 1943, and he also sells plants, trees and shrubs from his home. He enjoys selling at the market for the opportunity to connect with the community, he said.
"It's always nice to meet new people," he said.
The Basehor Historical Society's Farmers' Market runs from 4 p.m. to 7 p.m. every Wednesday and from 8 a.m. to noon every Saturday. Its new location starting Saturday will be at the Orscheln's Farm and Home parking lot. For more information about the market or to become a vendor, contact Iris Weston at 913-724-1243.