BLHS

wrestling became 'team to watch' during third-place run in Iowa tournament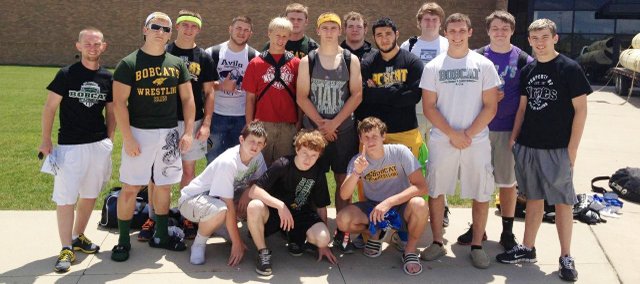 All-ages Camp
BLHS will host an all-ages wrestling camp July 8-10 at the districts' sixth-grade center at 155th Street and Leavenworth Road. William Penn University wrestling coach Eric Reed will help coach. The cost is $15. Contact Tyler Cordts at tcordts@usd458.org if interested.
Basehor-Linwood wrestling coach Tyler Cordts returned home from the Bobcats' trip to a camp in Iowa earlier this month pining for the return of winter months.
It's not as if he has anything against summer, or particularly looks forward to bone-chilling weather forcing people indoors. It's just that Cordts, much like his team, is ready to see what this summer's surge will translate into come the regular season.
"It amped my expectations up for next year," Cordts said. "The kids have seen we can do it, I've seen we can do it. Now we've just got to keep this momentum going. I wish we could start the season tomorrow."
BLHS placed third among 40 teams in a dual tournament during the Iron Sharpens Iron Team Camp in Dewitt, Iowa, surpassing Cordts' expectations and raising the bar for what will constitute possible in 2013-14.
Leading the way was John Hopper, who went 15-0 in the tournament, even wrestling a few extra matches by the end of the weekend.
"John Hopper was the talk of the tournament," Cordts said. "All anybody was talking about was Johnny and his double-leg (takedown) all weekend."
Dubbing his team the "dark horse of the tournament," Cordts said the Bobcats' third-place dual garnered a larger audience than the championship dual pitting two undefeated teams against one another.
"Our team became the team to watch," he said.
Shayn Morris served as a strong leadoff wrestler for much of the tournament, Cordts said. And wrestlers like Zach Carter, incoming freshman Justin Phillips and twins Justin and Josh Summers also wrestled well. But, in addition to Hopper, two more superlative performances left Cordts nearly speechless.
Nearly.
"I don't think I've ever seen Cory wrestle so tough," Cordts said. "He just brutalized opponents in a way I've never seen done before. I mean, he was a man."
McCleary went 13-1 and was undefeated in dual competition. Cordts said McCleary's lone loss came in a match in which he wrestled up a weight class.
Meanwhile, Dalton Inlow, who didn't see much mat time in 2012-13, lost just two matches by one point apiece. One such defeat was avenged twice, with Inlow winning the rematch, 3-2, and taking the rubber match, 12-1.
"Dalton Inlow was the breakout star of the tournament for us," Cordts said.
Morris, wrestling in the 100- to 110-pound division, and Hopper (150-165) also won their respective takedown tournaments, held at a nearby beach.
Monday evening practices await the rest of the summer, although Cordts gave wrestlers the week off after the tournament. The news, he said, was not met favorably.
"The didn't like me telling them to take one week off," he said.
For Cordts, the trip also served as a reunion with (and against) the Pella, Iowa, team he once helped coach. The Bobcats won a tightly contested dual against a team whose coach, Joe Burch, will soon serve as Cordts' best man at his wedding.