BLHS

football's summer focus on healing Sanders, replacing leaders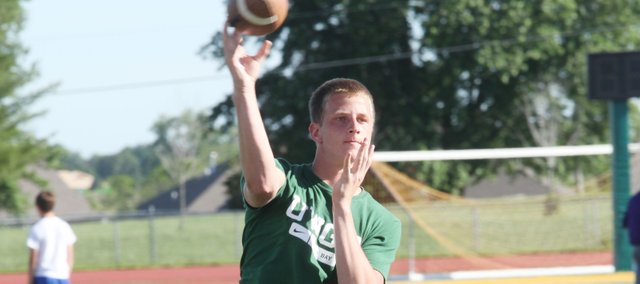 Stay tuned for a special 2013 football season preview in early August.
Photo Gallery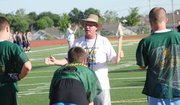 BLHS summer football
The Bobcats have kept busy this summer between camps and 7-on-7 play.
Two years removed from a deep tournament run and facing a second straight summer tasked with replacing vital cogs, the Basehor-Linwood football team suddenly finds itself on unfamiliar terrain: playing the role of underdog.
It's Tim Sanders' time under center, replacing the duo of Tanner Garver and Zac Hevel, who themselves had to replace Colin Murphy a year ago. But the most Herculean of tasks concern accounting for the loss of Kansas University-bound tight end/defensive end Ben Johnson and workhorse running back Drew Potter, who will play at South Dakota University this fall.
"We're going to be primitive," BLHS coach Steve Hopkins said during a Monday night 7-on-7 competition earlier this month against Mill Valley and St. James Academy. "What we're going to have to do early on is be more simpler."
Potter was one of the Kaw Valley League's top rushers in 2012, finishing with 1,123 yards and 15 of the Bobcats' 24 rushing touchdowns. Meanwhile, Johnson caught 42 passes for 598 yards and five scores — no other player exceeded 100 receiving yards and only one other player had a touchdown reception. But Johnson will also very much be missed on the defensive line
"Defense, now, we're more experienced. We've got three of the four guys back up front. But obviously when you lose the one that is Ben Johnson, that makes a lot of difference because we could structure our defense last year around Ben's skills," Hopkins said.
BLHS' 'stallion'
Helping the offense along will be the return of most of the team's linemen, a group that includes Nick Cheney and Jay O'Brien. Meanwhile, on both sides of the ball, senior Jake Phillips appears poised to assume both the leadership and workhorse duties left behind by the Class of 2013.
"We call him the stallion because he has to be the best blocker and a good receiver out of the backfield," Hopkins said, adding that Phillips will play more downs at defensive end this season after primarily playing linebacker in 2012. "Jake will kind of move all over the field. He might be at defensive nose one down, defensive end the next and a standup linebacker the next."
As part of a 14-deep senior class, Phillips said he isn't all that concerned about leaving an individual legacy but rather seeing to it that his team is successful in his final season — one in which the Bobcats will likely fly under the radar.
"I think we're looking forward to the challenge of replacing great players like Ben and Drew," Phillips said. "I think we've got some real talented people on this team and that we're going to surprise a lot of people this year."
If Phillips' role on defense figures to be fluid, one constant will be Cory McCleary at middle linebacker. McCleary, who recently spent a week away in Iowa with the BLHS wrestling team, led the Bobcats with 122 total tackles last season with Phillips not far behind at 95.
"When a team runs the ball against us, Corey might be where the ball ends up, he's just extremely fast," Hopkins said. "He's the second fastest kid on team — he ran on the 4x100 relay team. So we've got a sprinter playing linebacker with a great nose for the football."
Hopkins added that McCleary stepped up to direct the defense, which features several new faces at defensive back, during the Bobcats' early-June contact camp.
Cooler conditions
Preparation for the Bobcats' Sept. 6 season-opener at Bishop Ward has been aided by a much cooler June than that of last year, Hopkins said. Not long ago, Hopkins revisited last year's practice schedule and recalled 97-degree camp days.
"You can get so much more done now, so many more reps," Hopkins said.
Beset by a high ankle sprain suffered playing basketball earlier this month, Sanders' mobility was limited during 7-on-7 play. This summer, Hopkins said, will be devoted to ensuring the injury fully heals to clear Sanders for contact activities. High ankle sprains and convenience aren't spoken in the same breath, but Hopkins did allow that the timing could have been much worse. So far, the injury has limited Sanders from working on timing routes because he can't kick and push off his injured ankle. Still, the starting job will be waiting for him barring any setbacks before Sept. 6.
"This is his turn," Hopkins said. "So we look at him to make that important."