BSHS

football spends summer seeking to bounce back from 2012 skid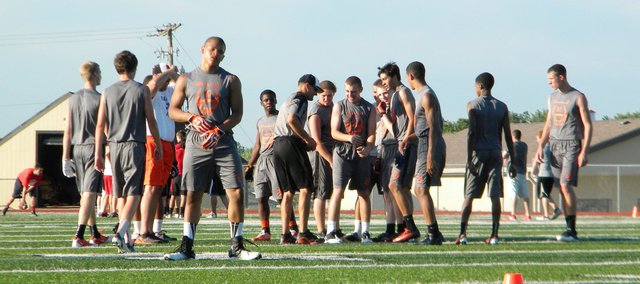 Stay tuned for a special 2013 football season preview in early August.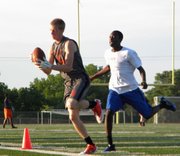 The Bonner Springs football team's summer activities schedule, and fall practice schedule for that matter, is a little unconventional this year. Perhaps helping matters will be that BSHS returns as many players as any Kaw Valley League team this season.
The Braves crammed their team camp into the first week following Memorial Day and after July 19 won't be allowed to resume team activities until Aug. 19 — four days after the start of school.
"This is the first time I've ever been involved in any football where we did not have practice before school started," BSHS football coach Aslin said.
Change isn't all bad, as another first this season saw the Braves travel to Emporia State University for the first BSHS team camp in recent memory.
"The biggest thing we got to see was our line — our guys on both sides — and see how they act, how they handle some of the physicality. There were some pretty good teams there," Aslin said.
Between that and the Braves' weekly visits to Lee's Summit North High (Mo.) for 7-on-7 play, BSHS has not lacked chances to gauge its readiness to improve upon 2012's 3-6 record.
Supporting cast strengthens
Just two seasons ago, Jordan Jackson was a sophomore thrust into the quarterback position, performing well enough to keep the job and help lead the Braves to 6-4. And though BSHS lost its final six games, it wasn't because Jackson left anything on the field.
"Last year we had a down year as a team but he had a great year as a person," Aslin said. "He accounted for everything but 400 yards of our total offense which is real good for him but real poor for everybody else."
In 2012, Jackson also had to account for the graduation of his older brother, J.J. Jackson, a running back as a senior, and Stevie Williams at receiver. Aslin acknowledged a steep drop-off in talent surrounding Jackson in 2012, but it's some of those same players who have developed into a stronger supporting cast this past offseason.
"Our receiving corps is a lot better this year than it was last year and we have a few more running backs this year than last year so competition will be better," Aslin said. "Offensively, we have a chance to be a lot better than last year as far as scoring points. We played really good defense (last year), we just couldn't do anything offensively."
Travis Dooley has been impressive at receiver in spring and summer activities, Aslin said. Connor Byers will serve as backup quarterback but also play receiver and Jonah Freese will lend another big body to the receiving corps. Weston Vitt and Hayden Hoffine round out a group of receivers that count just one senior in its top five.
The Braves likely lost senior tight end Darian Neal for the season to a torn ACL suffered during the team's Emporia State camp.
Jackson, Dumler receiving looks
Jackson, at quarterback and safety, is expected to be the only Brave playing both sides of the ball. Aslin points to playing too many athletes both ways as a contributing factor to the season's derailment. The shift in philosophy this season will allow Kyle Dumler — who alongside Jackson has been the Braves' most recruited athlete — to focus exclusively on defense.
The 6-foot-4, 315-pound Dumler has always been a workout warrior — Aslin said he squats close to 600 pounds and benches and hang cleans north of 300 pounds. So far, Aslin added, that's translated to an equally strong spring and summer.
"I expect him to dominate up front," Aslin said. "He's bigger and stronger than every kid he'll go against, he'll just need to want it. He dominated at Emporia State and did a great job out there, so I expect him to play well. He's a guy I wanted on defense."
A senior-to-be who hasn't yet turned 17, Aslin said Dumler would be a perfect redshirt candidate his first year in college as he continues to grow. Aslin said Dumler added 100 pounds in the last 18 months.
Dumler was offered a scholarship by Emporia State following the Braves' camp and is also receiving looks from Kansas University and Kansas State among other programs. Several Division I-AA schools have also offered Dumler, Aslin said.
"A lot of guys really like his size and strength — and his age," Aslin said.
Jackson recently spent time at a Kansas State camp and has been clocked in the low 4.50-second range in the 40-yard dash at BSHS. The 6-1, 170-pound Jackson is also being recruited by some progams as a safety.
"Jordy will depend on how well he plays the first three to four games of the year," Aslin said. "If he plays really well the first three to four games, he could be a I-AA guy or a Division I 'athlete' guy."