Bixby, Hurley address Basehor Chamber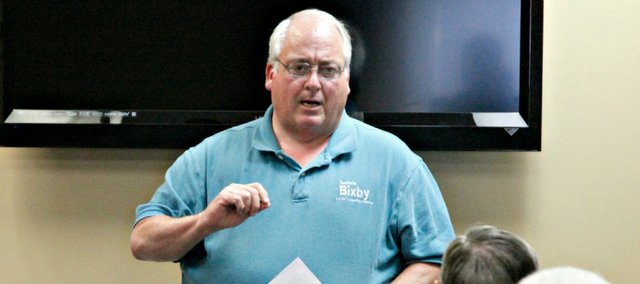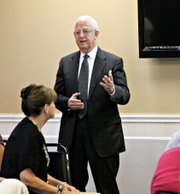 Basehor — Members of the Basehor Chamber of Commerce got an opportunity last week to hear from a pair of officials who represent Leavenworth County at the state level.
County Commissioner Dennis Bixby and County Administrator Patrick Hurley served as guest speakers at Thursday's membership meeting at 24-40 Roadside Cafe. Both gave updates regarding the state of the county and shared plans focusing on the growth of Basehor and its surrounding communities.
Bixby, who joined the Chamber on Thursday, shared the state's plans to construct a Kansas City beltway that will run through the center of the county. The beltway, similar to Interstate 435, will start in Gardner, run north to Highway 24-40 and Interstate 70 and into northwest Leavenworth. There will also be a bridge in Missouri that will join with Interstate 29.
Leavenworth County will be responsible for $300 million of the $1 billion project.
"This is a real game-changer for Leavenworth County," Bixby said. "The money is there. The governor wants it, the secretary of transportation wants it. We're all excited for the potential of increased transportation."
Funding is currently being discussed, and Bixby said it will be a minimum of two years before and groundbreaking takes place. He emphasized the importance of keeping local streets in presentable condition as increased traffic begins to make its way through the county.
"We want people to come here, feel good and invest," he said.
Bixby also announced economic gains for the county, as well as the city of Basehor. He said Leavenworth is one of just seven counties in the state that will see increased funding in roads — a decision made based on car count. Additionally, he said Basehor's 2013 valuation for its 2014 budgets revealed an increase of about $500,000 in property valuation at $49,266,681.
Following Bixby's presentation, Hurley addressed those in attendance about various budgeting information, as well as plans for future development. Hurley, a Leavenworth native, highlighted the growth of the county in recent years and said the population is projected to reach 100,000 by 2030.
"If those numbers are accurate, (Basehor) is where the growth will continue to occur," Hurley said. "You have an extraordinarily bright future ahead of you, and we at the county level want to help you achieve that to the maximum degree."
Hurley also noted the significant growth in western Wyandotte County in recent years, which he said could lead to more growth in Basehor.