13th annual Marble Crazy has busiest weekend ever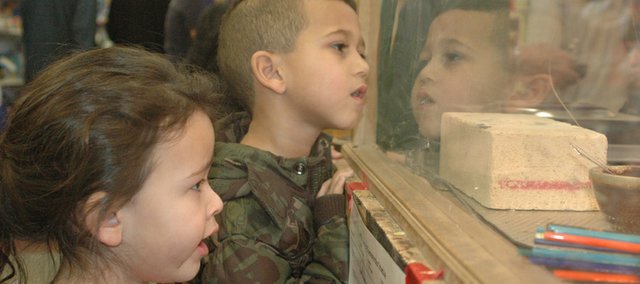 It took a trip to the East Coast for art glass collectors Jeff and Paula Snow of Blue Springs, Mo., to learn about Marble Crazy, a glass art event in their own backyard.
It wasn't until they went to a glass convention about six years ago and met Eddie Seese, a glass artist who also creates furnace marbles and regularly attends Marble Crazy, that they learned about the marble-making spectacular at Moon Marble Co. in Bonner Springs. But now, they're hooked, adding marbles to their other glass obsession, Fenton art glass, and becoming regular attendees at Marble Crazy for the past several years.
Photo Gallery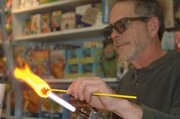 13th Annual Marble Crazy
The Moon Marble Co., 600 E. Front St., opened the 13th annual Marble Crazy today at noon. The event runs until 9 p.m. and starts up again at 10 a.m. Saturday, March 2, running until 5 p.m.
They've even started collecting the artistic posters created for each year's event.
"We love the show; we come over every year," Paula Snow said. "… This is a fun, fun time. You get addicted to this."
The 13th Annual Marble Crazy started off slow and easy on Friday, when snow flurries kept crowds to a regular, manageable pace.
"That was the perfect crowd," said Bruce Breslow, co-owner of Moon Marble. "That's how we like it; not so packed that people can't walk, and people can visit with the artists."
But on Saturday, things ramped up quite a bit. Breslow said it was so busy that visitors were packed in pretty tightly, and it stayed that way from the moment doors opened at 10 a.m. until they closed at 5 p.m.
"It was probably the busiest weekend we've ever had," Breslow said.
Visitors packed the store to see the wares of 22 marble and glass artists and watch marble-making demonstrations, whether with a marble machine or "by hand" through furnaceworking or lampworking.
In addition to artists, Breslow said a lot of collectors from all over the country came to Kansas City for this year's event at Moon Marble and the follow-up event on Sunday at a hotel in Overland Park, organized by the Kansas City Marble Collectors Club.
"I also heard through the grapevine that a lot of the marble workers are saying this is the best show they do," Breslow said. "They say Kansas Citians get excited and are very receptive to them."
But Seese, who hails from West Virginia, said it has a little bit to do with the fact that the event is very well-organized, too.
"Bruce does an incredible job with the show; people come from all over," he said.