Thoughts turn to 2013-14 for
BLHS

boys basketball team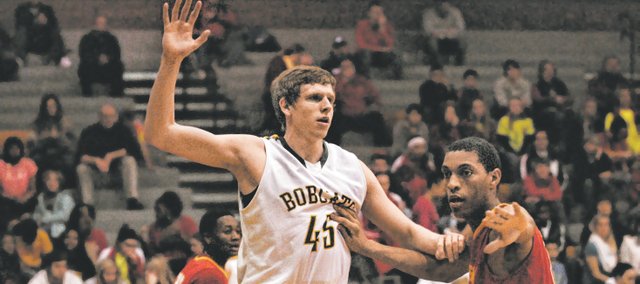 The day after their bid for a chance to defend their 2012 state championship ended in defeat, several Basehor-Linwood basketball players approached coach Mike McBride with a question.
When can we get back in the gym?
"You don't win state championships or win year in and year out at a school like we have if you don't play all year," McBride said.
With 90 percent of the team's scoring and 80 percent of its rebounding returning next year — senior Matt Ogilvie was the lone senior on the team following Ben Johnson's early-February departure — McBride expects to field a senior-laden squad that, in his words, will be playing with some desperation next season.
"They realize the most games they'll get to play the rest of their high school career is 26," McBride said.
One night after routing Atchison, 91-58, in the tournament opener at home, the Bobcats (12-9) couldn't complete a comeback from down 17 in the fourth quarter against Sumner Academy.
The Sabres outscored the Bobcats, 19-9, in the third quarter before building a seemingly insurmountable advantage late in the game's final quarter.
But after whittling the deficit down to single, the Bobcats found themselves at the free-throw line on multiple occasions, one of which on a three-point play. They'd miss three of those shots and a subsequent attempt — make all of the above and it's tied — and instead came out of the sequence down seven.
"We were right there," McBride said.
The Bobcats' strength this season, free throws and layups, became their undoing in the second half on Thursday. After hitting 7 of 8 from the line in the first half, and having entered the game hitting 70 percent on the season, the Bobcats hit just 12 of 26 (46 percent) free throws in the second half.
"Honestly, I thought and still think we were the better team," McBride said. "We got all the layup and free throw chances, we just didn't make them."
Following Thursday's loss McBride said he had tears in his eyes as he thought of Ogilvie's career coming to an end. The 6-4 senior overcame injuries to put together his best season with the program this year. His career's high point may well have come on Wednesday against Atchison, when he brought down two (nearly three) dunks, lighting up the crowd and bench in tandem.
"I wish I could've taken him farther down that road," McBride said.
McBride said several colleges had inquired about Ogilvie's interest in playing at the next level. Ogilvie is one of those late-bloomers, McBride said, who could still tack on 20 to 30 pounds and be an asset to a college team.
The final picture of this year's squad didn't come together until recently. Attrition and injury plagued the Bobcats throughout the season, before its most recent iteration came to be.
This most recent, final version is a team capable of sweeping eventual sub-state champ Piper in the regular season and having more than a prayer of overcoming a 17-point fourth-quarter deficit against Sumner Academy.
"I didn't feel like we began playing Bobcat basketball until the last two weeks of the season," McBride said.
Should that continue into next season the Bobcats could be dangerous. Guards Chase Younger, J.P. Downing and Zach McNabb all return, as does Tim Sanders, who reached double figures in both sub-state games.
Freshman Jahron McPherson also heads a deep crop that will be vying to fill out the starting lineup, and McBride forecasted a strong incoming freshman class that should also augment the program.
"It's wide open every year," he said.