Three Braves represent
BSHS

, Kansas in

KC

Metro Classic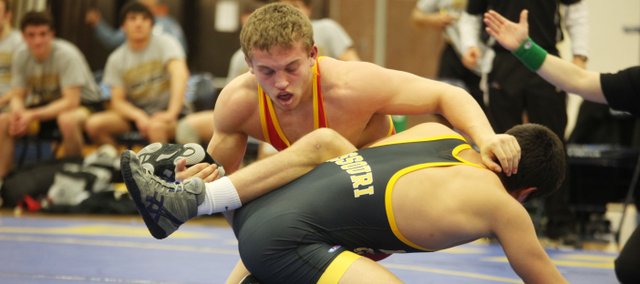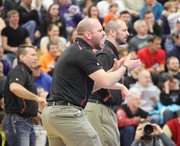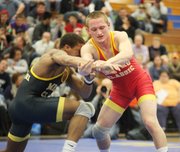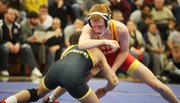 Kansas City, Kan. — Three Bonner Springs senior wrestlers weren't ready to call it a career just yet. They also had one more night of instant classics left in them.
Senior Justus Seaton, Jonathan Blackwell and Aaron Puckett each represented the Braves in the 21st annual KC Metro Classic Tuesday at Kansas City Kansas Community College in a postseason all-star meet pitting the top seniors from Kansas and Missouri against one another.
BSHS coach Brandon Jobe also earned a spot on the coach staff after leading the Braves to a fourth-place finish in February's Class 4A state tournament. Blackwell gave the Braves their lone victory of the night in a 9-7 victory against Blue Springs' Cain Salas in a battle of two state champs and one-loss wrestlers. Blackwell shot out to a 4-2 lead after the first period but fell behind 4-5 with 1:20 left in the second. Soon enough, however, Blackwell turned a reverse to notch two quick points and added two more to close out the frame back up, 8-5.
Blackwell closed out the third with just enough of a cushion to win as a late Salas takedown was not enough to upend BSHS' 152-pound champion.
After finishing the regular season undefeated at 160 pounds, it appeared Puckett's night would be over quickly on Tuesday. Within the first minute of his match against Rockhurst's Drew Daniels, Puckett landed hard off the mat, writhing in pain and holding his elbow. Still, he came out of the injury timeout and wrestled a scoreless first two periods. The two state champions took a 0-0 stalemate into the final frame before Puckett scored the match's first point with less than 90 seconds left. But with just 14 seconds left, Daniels landed a takedown to pull off a late 2-1 victory.
Justus Seaton opened the night in the 113-pound match against Kearney's Jared Singh. Singh opened a 5-1 first-period lead en route to winning, 12-1.
Missouri went on to win the event by a narrow 27-25 margin. With 10 total wrestlers in the tournament over the years, BSHS is now tied for fifth among schools with the most participants. Meanwhile, Puckett and Blackwell will compete in the annual Big Schools vs. Small Schools event on March 28 in Topeka.