Bobcats sweep latest state powerlifting meet for consecutive championships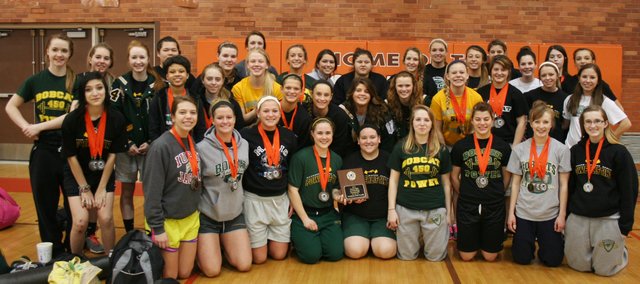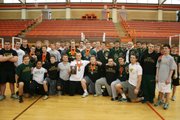 Top-six finishers and champions
Men's Division
• 114 Class: Shayne Morris, second, 525 pounds
• 114 Class: Jeff Storm, third, 525 pounds
• 114 Class: Hayden Morris, fifth, 435 pounds
• 132 Class: Eric Purrington, state champion, 670 pounds
• 140 Class: Austin Sinclair, third, 685 pounds
• 156 Class: William Trout, third, 790 pounds
• 156 Class: Tyler Kendrick, state champion, hang clean (265)
• 173 Class: Janrae Bondoc, fifth, 830 pounds
• 181 Class: Brandon Kerns, fifth, 765 pounds
• 181 Class: Caleb Hiss, sixth, 760 pounds
• 198 Class: Jake Phillips, third, 945 pounds, hang clean state champion (320)
• 198 Class: Dean Cochran, fourth, 930 pounds
• 220 Class: Jacob Boyer, sixth, 975 pounds
• 242 Class: Josh Barnes, second, 965 pounds
• 242 Class: Drew Potter, third, 945 pounds
• HWT: Bret Fritz, state champion (1,075), state champion squat (505)
Women's Division
• 105 Class: Rachael Cook, state champion (420), squat (185), clean (120); state record, bench (115)
• 105 Class: Cassie Beattie, second, 365 pounds
• 105 Class: Nia Sitzman, third, 345 pounds
• 114 Class: Katie Tindell, third, 425 pounds
• 114 Class: Sara Rehm, fourth, 390 pounds
• 114 Class: Hailey Robinson, fifth, 365 pounds
• 114 Class: Allie Johnson, sixth, 360 pounds
• 123 Class: Jamie Weible, third, 450 pounds
• 123 Class: Katie Hickman, fifth, 405 pounds
• 123 Class: Cheyenne Morris, state champion, bench (120)
• 132 Class: Sierra Smith, third, 500 pounds
• 132 Class: Courtney Norris, fifth, 490 pounds; state champion, squat (240)
• 140 Class: Katey Trower, state champion (560) — squat (250), bench (150)
• 140 Class: Courtney Leive, second, 530 pounds; state champion, hang clean (175; state record)
• 140 Class: Ariel Smith, sixth, 435 pounds
• 148 Class: Maecy Cooper, state champion (535), squat (245), clean (165), bench (125)
• 148 Class: Cassie Tucker, third, 495 pounds
• 156 Class: Brandi Stahl, third, 505 pounds
• 156 Class: Brianne Kennedy, fifth, 465 pounds
• 165 Class: Kara Stephens, state champion (440), squat (225), bench (120)
• 165 Class: Jamie Johnson, state champion, hang clean (145)
• 180 Class: Maddy Langford, fifth, 415 pounds
• PWT: Allison Kasick, second, 615 pounds
• PWT: Mallori Belk, fifth, 585 pounds; state champion, hang clean (200; state record)
Both Class 4A state powerlifting championships remained with Basehor-Linwood after the Bobcats boys and girls teams each again won consecutive titles Saturday in Abilene.
Both teams easily secured first-place as the girls placed well ahead of the pack with 116 points to Royal Valley's 48. The boys also finished with 76 points, ahead of Buhler's 53.
In a field north of 400 lifters, three Bobcats broke state records: Rachael Cook's 115-pound bench, Courtney Leive's 175-pound hang clean and Mallorie Belk's 200-pound hang clean.
Belk became the program's first girl to clean more than 200 pounds at the Class 4A state meet.
BLHS strength and conditioning coach Ross Schwisow said about 80 percent of the seniors who went to Abilene placed in the top six of their respective classes — a positive sign after having graduated almost 70 percent of the points from last year's boys state championship team.
"It really takes a year to get there," he said.
On the girls side, Schwisow said, the Bobcats were fortunate to field a deep team that overwhelmed most of its competition numbers-wise.
Though the Bobcats' run gives it the distinction of a dynasty, stringing together consecutive championships isn't getting any easier. Schwisow said competition continues to increase as more schools send larger contingents of lifters to the state stage.
Powerlifting meets transpire similar to track and field and wrestling tournaments as far as scoring is concerned. And so while the boys team finished more than 20 points ahead of second-place, Schwisow said the Bobcats were actually even with Clearwater and Buhler entering the heavier weight classes above 181 pounds. From there, he said, BLHS reeled off fifth- and sixth-place finishes before Jake Phillips won the clean with 320 pounds and Bret Fritz won heavyweight.
"That's when we won the meet," Schwisow said. "It's really rewarding. That really became a strength for us."
After graduating a load of athletes last year, Schwisow expects to return more next season.
"We probably had more junior boys score than we've had in a long time; our outlook is higher," Schwisow said.
On the girls end, the Bobcats also received a boost from the addition of Jamie Johnson and Kara Stephens, whose basketball seasons ended one week earlier in sub-state. Stephens won her division and the squat event while Johnson added a hang-clean victory.
Nine girls took home state titles on Saturday. In addition to her record 115-pound bench, Cook also earned the overall 105-pound championship. Cheyenne Morris earned a state title in the 123-pound class with a bench of 120 pounds.
Courtney Norris won with a squat of 240 pounds in the 132-pound class.
Katey Trower won the 140-pound class overall and Leive's state-record hang clean of 175 pounds earned her a title in the same class' event.
Maecy Cooper made it a clean sweep of her 148-pound class, winning it with 535 total pounds lifted, and placing first in the squat (245), clean (165) and bench (125).
Stephens won the 165-pound class with 440 total pounds lifted and Johnson cleaned 145 pounds to bring home a title in the same class.
Belk closed the meet with a state title at powerweight (585) and her record clean.
Four additional BLHS individual state champions hailed from the men's division. Eric Purrington won his 132-pound class with 670 total pounds as did Fritz, who totaled 1,075 pounds and also won the squat with 505 pounds.
Tyler Kendrick won the hang clean title with a 265-pound clean in the 156-pound class, and Phillips won the same event with a 320-pound clean in the 198-pound class.
Also on Saturday, Drew Potter and Josh Barnes were able to fit in one more duel in the 242-pound clean. Barnes edged Potter for second in the class with 965 pounds lifted, just 20 pounds ahead of his teammate.
"That was neat," Schwisow said. "We preach that in the weight room — that internal competition."
Schwisow said more student-athletes are getting involved in spring sports than in years past, but some of those not involved will take part in his TRAIN Program, which is a four-day per week, six-week program that simulates the training that goes into the NFL Combine.
"We do things year-round," Schwisow said. "If all you do year-round is concern yourself with how much you can lift, you're going to get hurt, bored or burnt out."