Dreams of becoming pilot take flight for
BLHS

student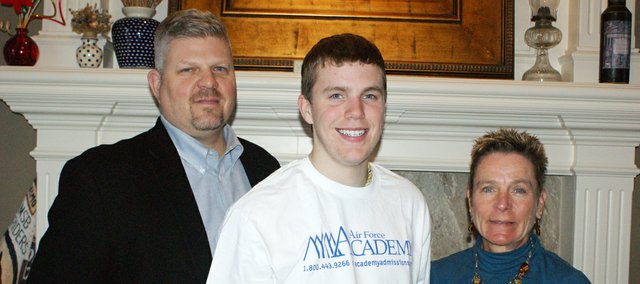 After accepting a nomination to the United States Air Force Academy, Zac Hevel has finally accomplished the goal he's worked toward since age 5.
"He has wanted to be a fighter pilot ever since he saw the Blue Angels down in Pensacola, Florida," Zac's dad, Jim, said."
With an early passion for flying, Zac grew up with mentors well-suited to prepare him for his goals, as both of his parents served in the military.
Zac's mom, Debbie, spent 20 years in the Army, becoming a commissioned officer and then a physician assistant for the Department of the Army Civilians. Jim spent 22 years in the military and was a UH-60 Blackhawk helicopter pilot, serving in Iraq and Korea before retiring.
"I really wanted to be like my father," Zac said. "He's my hero."
Zac, a Basehor-Linwood High School senior, got an early taste of what the Air Force would bring when he attended a five-day camp at the academy last summer. He was treated as a cadet, learning what life would be like in his first year.
"He came home tired but excited at all the new activities that he might be able to participate in," Jim said. "One was sky-diving. I don't endorse jumping out of a functioning airplane for fun, by the way."
As a helicopter pilot, Zac said, his dad has never understood the appeal of jumping out of a plane.
Although Zac is looking forward to starting school, it was no easy path getting accepted to the academy. Generally more difficult than being accepted into an Ivy League school, the academy requires intensive nomination rounds, fitness tests, essays and interviews with military officials. Zac had to meet with several Kansas legislators to earn their coveted nomination.
It was intimidating, Zac said, but it paid off when he received three nominations when most students got only one.
As for flying, Zac got some practice with his dad last summer when he learned to fly solo in just eight hours. Jim said it took him twice as long to solo.
Zac is keeping busy before he leaves for the academy as National Honor Society vice-president, student council secretary and a founding member of Student Ambassadors. He reports to the academy in Colorado Springs, Colo., at the end of June for six weeks of basic training before classes start.