Owners of Bonner Springs's Red Fortune prepare for final day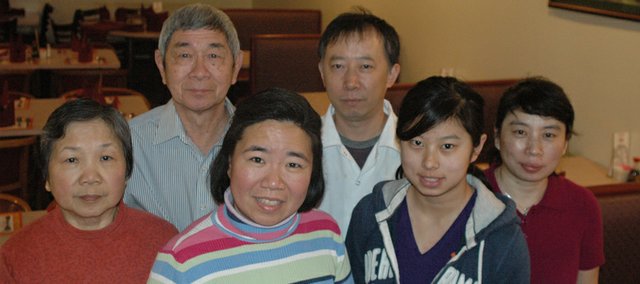 It's been an emotional week for Maria Lui and her family at Red Fortune Chinese Restaurant. Every time they turn around, they say goodbye to another longtime friend and customer.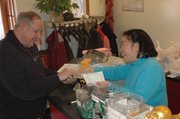 "Don't be surprised if I start crying," Maria Lui says as she hugs yet another customer.
After nearly 20 years in downtown Bonner Springs, the Lui family on Saturday will spend their last day at the restaurant that has become a sort of symbol of Bonner. The restaurant will continue to operate as usual as it will be passed to a cousin, who will maintain the same staff members and recipes the community has come to know.

Jay and Christine Slinkard began coming to the restaurant in its original building and have remained customers since. They even invited the Luis to their wedding, and their two young daughters have grown up coming to the restaurant.
"It's been quite a journey with them," Christine Slinkard said Monday as the family completed their meal. "Our girls call them the Red Fortune grandma and grandpa."
Letter to Red Fortune customers
After 20 years of being a part of this community, my parents are retiring from Red Fortune. On March 17, they will pass the restaurant to one of my cousins.
It has been our pleasure and privilege to have served this wonderful community. Thank you for your friendship and support throughout the years. Red Fortune would not have been successful without you guys! We'll miss all of you! Overall, it has been a wonderful journey with the people of this community, many of whom we would consider friends and family. Thank you for being a part of our lives and letting us be a part of yours!
So we can treasure our years spent here in Bonner Springs, we would love for you to share your memories of Red Fortune with us. I have books you can write in, you can post stories online via my Facebook page, or email me at redfortune1988@gmail.com.
Many adventures await us down this new road in our lives. We are looking forward to getting to explore, travel and discover the path that lies ahead. We wish you all many blessings in your lives and the years ahead!
Please continue to support my cousins on their new journey at Red Fortune! Come by and see us off: Our last day will be Sat., March 16! We would love to see you all before then! - Maria Lui
The Slinkards say whenever family comes to visit them, they always want to come to Red Fortune.
"It kind of spoils you; it's hard for us to go to another Chinese restaurant, because it's not as good," Jay Slinkard said.
The Lui family purchased the restaurant, then known as the Confucius Kitchen, in 1996. They got their own restaurant "by faith," Maria Lui says. Her parents had always wanted their own business, and her mother, Chi Yuk Wong, had been working for her cousin at Overland Park's Dragon Inn, while her dad, Ting Chan Lui, worked at Red Dragon House in Kansas City, Mo.
They put a deposit down on the Confucius Kitchen but then walked away because it didn't feel right.
"Nine months later, we came back and thought, 'Hey, we can make this our own,'" she said.
They named it Red Fortune, based on Chinese culture's emphasis on the color red, and because her mother liked the word "fortune." They quickly gained a following because of the quality of their food and their versions of traditional Chinese dishes.
"They kind of tweaked everything to make it their own," Maria Lui said of her parents. "Some they borrowed and some they tweaked, but the Crab Rangoon is theirs and the sauces were theirs."
They opened on Sept. 3, 1993, and about three years later — Sept. 6, 1996 — the restaurant was destroyed in a massive fire. Maria Lui said the family was able to reopen in a neighboring downtown building on Feb. 14, 1997.
"If it wasn't for the community, we wouldn't have rebuilt," she said. "Without their support and our landlord's support, we would not have been back."
During a trip to China last fall, during which the family closed the restaurant for several weeks, Wong's arthritis didn't flare up as bad because she wasn't working as much.
"When she got back, it was really, really busy because everybody missed us," Maria Lui said. "I think the flare ups were just really, really bad … and she said, 'Hey, life is too short.'"
With her parents and aunt, Chi Wah Wong, deciding they were ready for retirement, the family briefly put the restaurant on the market before learning that a distant cousin — as Maria Lui explains it, his great-grandfather is her grandfather — was looking to buy his own restaurant.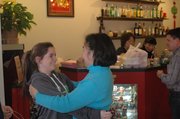 The cousins have been working at the restaurant for the past month to help ease the transition.
Maria said she and her parents will visit her brother, Dominic, in Georgia and do some other traveling, before Maria takes some time to decide what she wants to do next with her career.
Maria has asked customers to email stories to redfortune1988@gmail.com or share them on her Facebook page, which is plastered with comments and photos from customers.
They all note how they will miss Maria, the ambassador of the restaurant.
"Often we just call it 'Maria's' because it really was like having dinner with you!" Jane Rink wrote. "You & your family have made RF a welcoming haven in our community."
Bonnie Hill, who wrote she has been going to Red Fortune since she first moved to Bonner Springs 19 years ago, said: "Your commitment to fast, friendly, affordable and most delicious food may have been why we started going to Red Fortune; but then it became, 'We need to go see Maria.'"
Steve Bundy, a former resident of the area, said he remembers having the restaurant's number "burned into my brain."
"How many restaurants can you find your children's pictures hanging on the walls?" he wrote to Lui. "Our kids even refer to you as 'Auntie Maria' and you know you will always be my adopted Chinese Sister. We have celebrated many happy times with our friends and family at your restaurant, and it always felt more like home."