Taking the lead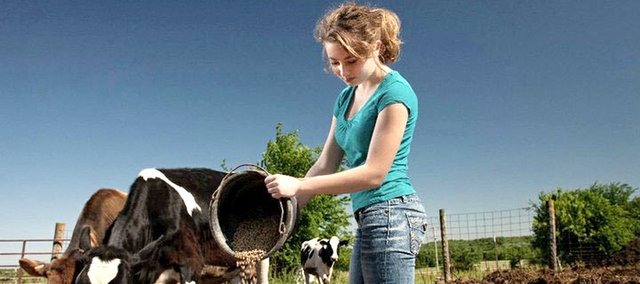 Taylor Leach won't be wearing high heels and a sparkly dress during prom weekend this year— she'll be in cowboy boots and jeans.
Missing prom to show cattle in Oklahoma was a tough decision, but Taylor, a Basehor-Linwood High School senior, is dedicated to her passion.
From the Kansas State Fair to huge livestock shows in Kentucky and Wisconsin, Taylor shows award-winning cattle at seven large shows throughout the country each year. Her most recent accomplishment is a testament to her dedication, mom Lisa said, as she was accepted into the Jersey Youth Academy in Columbus, Ohio. She's one of 36 teenagers from across the United States that was hand-picked to participate in the educational program on the dairy industry.
Growing up on a dairy farm in Linwood, Taylor has been showing dairy cattle since she was little. And it's a skill that runs in the family. Taylor's mom, Lisa, worked as a dairy cattle photographer and showed cattle, and Taylor's dad, Rob, drove cattle trucks for shows. Lisa and Rob, who both grew up on dairy farms, first met at a cattle show.
Showing may be in Taylor's blood, Lisa said, but her passion was spurred early in life after attending the World Dairy Expo in Wisconsin at age 3.
"Ever since then she's wanted to do it," Lisa said. "That big show really impressed her."
Taylor has won many accolades throughout the years, but for her, showing cattle is about the people she gets to meet.
"People say it's a hobby, but to me, it's not. It's a lifestyle," Taylor said.
Attending shows across the country is a bit like a family reunion, she said, because she only gets to see those friends once a year at a certain competition.
"I could go to every single show and be in last place and still have a ball," Taylor said.
In addition to the camaraderie, attending shows has given Taylor a great opportunity to network for her future career, Lisa said.
"I want a job in the dairy industry," Taylor said, adding that she'd like her career to incorporate agriculture communications.
Taylor keeps a busy schedule between shows. She has to help out with chores on the family farm, study for classes, serve as president of Glenwood 4-H Club, secretary of National Honor Society, and she's always preparing for the next show.
"Showing dairy cattle doesn't have an off-season," she said.
Taylor also started an initiative to hand out chocolate milk to the BLHS boys and girls varsity basketball teams after games to help athletes recover while also promoting dairy.
Taylor's hectic schedule has taught her a lot about time management, Lisa said, as she has to miss school to travel to shows. But her hard work and sacrifice have paid off, as shown by farms' requests to have Taylor show their cattle.
"She's earned a reputation for being great leadsman," Lisa said.
Taylor plans to attend a community college for a couple of years before transferring to a larger public school to study animal/dairy science.