High school spring sports preview: Bonner Springs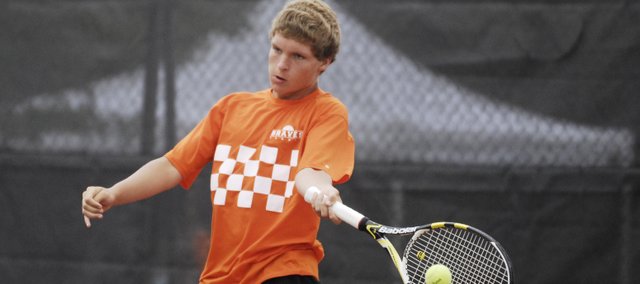 If the tail end of the 2012 spring sports season was any indication, Bonner Springs is in for a thrilling 2013 slate.
Nearly every program closed its season on a high note, returning just enough from last year's teams to suggest BSHS will be the beneficiary of a host of rising programs once the snow stops falling around town.
Baseball
Senior Logan Terrell, a Pittsburg State signee, returns to lead a BSHS baseball team looking to build off a strong end to the 2012 season. Terrell will play in the outfield this season after batting .317 and picking up 10 stolen bases in 2012. Senior Luis Gardea also returns after batting .298 and stealing 13 bases, and is projected to join Terrell in the outfield. And Junior Darian Neal is back after missing last season because of injury.
The Braves must replace outfielder Shawn Jones, designated hitter Gonzalo Pichardo, pitcher Sergio Valenzuela and first-baseman/pitcher Austin Clouse. Still, coach Scott Lero believes the Braves have enough returning talent to improve on last season's 5-16 finish.
"We have made a lot of changes with moving older guys to new positions and bringing young guys up to the varsity level," Lero said.
The Braves will be start up to five sophomores and one freshman, but Lero isn't willing to call this a developmental year. The Braves lack experience on the mound, but Lero said he expects this group to be more talented,improving steadily as the season progresses. The Braves open their season at home with a doubleheader against Lansing at 4 p.m., Tuesday.
Boys golf
Tristan Abts, Marc McClain, Jason VanMaren, Jake Laing and Steven Greer return from 2012 with Caleb Kivett the team's lone loss to graduation. McClain shot a second-place 72 at regionals last year.
The season begins at Sunflower Hills on March 23 before the Braves return to the course to play host to the annual Bonner Springs Invitational on March 28.
Girls soccer
Despite losing seniors like Madison Morris and Yessenia Hernandez, the Braves still return the bulk of a 7-9-1 team that nearly rallied past De Soto in regional play last May. The Braves lost six starters to injury at various times last year. Tess Newberry, Shelby Taylor, Anna Deegan and Haley Hoffine are also expected back this year. The Braves open on the road at Class 4A state semifinalist Tonganoxie at 4 p.m. Monday before their home opener at 6 p.m. Tuesday against Ottawa.
Softball
Pitcher/first baseman Geena Harris, utility player Cassady Holloway and pitcher/first baseman Bre Hammer all return as the Braves' 2013 senior class. As juniors, the trio helped lead the Braves to a late-season seven-game winning streak. Harris led the Braves in batting average, slugging percentage and earned run average.
Holloway played almost every position last season, even stepping in to pitch on occasion. This year, she may take the graduated Kylee Timberlake's third-base position. Sophomore Mikayla Bennett is expected to see more consistent playing time this year and fellow sophomore Meagan Laughlin could see the field more as well. Junior Mikayla Ussery also figures to factor into the team's lineup.
BSHS will begin its season at Piper at 4 p.m. Thursday, March 28.
Girls swimming
Expected back this season is sophomore Cassie Stock, who swam a personal best in the 100-yard breaststroke at the Class 5A-1A state swim and dive meet last season.
Boys tennis
State qualifier Quinton Schneck returns in search of a new doubles partner after the graduation of Spencer Bush. Scott said Schneck enters the season as one of the Braves' top four varsity players. He will be joined by Aaron Lewis, Joe Arnett and Peter Jenkins as the Braves' top returning letterwinners. Jack Klingele, Tyler Jenkins, Kyle Sears and Luciano Fasani round out the Braves' varsity squad. In all, 20 boys will be competing in Scott's 34th season at the helm.
Track and field
Senior Mandy Ballou will return to assume the role of captain for the girls track team. A previous state-qualifier in relays, Ballou has the No. 2 ranking at BSHS for the 3,200-meter run and is a school record holder in cross-country. On the boys side, several upperclassmen return, seeking to offset the loss of state qualifier Blaine Edmondson. Captains senior T.J. Kimbrough-French and juniors Kyle Dumler, Jordan Jackson, Tre Scott, Deion McQuarters and Austin Schuler return to lead the Braves, who open their season lat the Baldwin Invitational at 3:30 p.m., Thursday, March 28.