Local 4-H club hopes to continue growth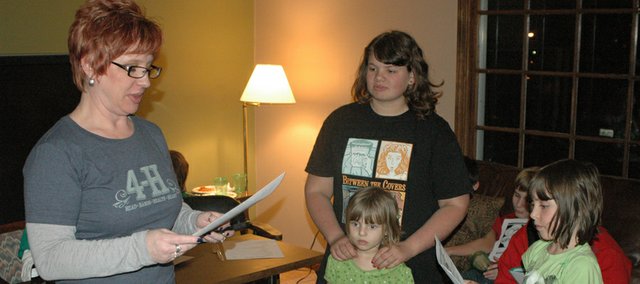 Things were a little cramped at the Brauer Braves 4-H Club meeting Sunday.
Crammed into the family room of the meeting house next to Bonner Springs United Methodist Church were 13 club members, several of their parents and four visitors.
Dani Gurley, co-leader of the club, took a moment to explain to the club that she was going to talk to the church about moving their meetings to a larger room in the church basement.
"We've all the sudden outgrown this space, guys — which is awesome," she said.
The more than 50-year-old club has seen its ups and downs. In the beginning it was based more in Kansas City, Kan., and then moved toward the Piper area, before its membership brought it to Bonner Springs in more recent years.
Gurley said in the past three years, the club has gone from five members to 18, then back to seven. With Sunday's induction of three new members, it is now back to 13 — and should the visitors at the meeting decide to join, it would grow even more.
Gurley said that growing and maintaining the membership is going to be all about breaking the stereotype that to be a member of 4-H, you must live on a farm.
"We only have two kids in the club who have animals of any kind," she said. "But the general belief is that 4-H is for farm kids."
And 4-H teaches members about more than just farm-related topics. Members of the Brauer Beavers have recently completed projects on woodworking, electronics, sewing, foods and nutrition, rocketry, robotics and arts and crafts.
At Sunday's meeting, they listened to member presentations about origami and volcanoes. They also discussed how to judge baked goods and planned a mock baked goods contest for the next month's meeting.
They discussed the 4-H summer camps available in June, including one focused on photography.
Kamren Brown, 12, a sixth grader at Clark Middle School, said he had no idea what 4-H was before he joined the club a year and a half ago, but his mom, Tamara Root, was among those who knew only the 4-H stereotype — she only knew that some of her cousins had been in a 4-H club, and they lived on a farm.
Then she ran into Peggy Berrier-Boyd, who organizes 4-H for the Wyandotte County Extension Office.
"I was like, 'Isn't that livestock and animals?'" Root said. "And she said, 'No, it's everything.'"
Kamren described 4-H as "really cool."
"(I like) all the cool stuff we get to do," he said, listing his favorite parts as projects about horses and chickens as well as robotics and rockets.
"I didn't even know that there was that much in 4-H that was available," Root added. "He's got, like, six different projects going on."
Other members of the club are second-generation, like Gurley's daughter. Gurley was in 4-H from age 9 to 17, so she has made sure both of her daughters have participated in a club.
"I learned so much in 4-H, I wanted my kids to have this experience," Gurley said.
Brauer Beavers meet at 7 p.m. on the third Sunday of every month in the Bonner Springs United Methodist Church meeting house. Visitors are welcome. For more information contact Gurley at 913-422-3596 or danig@att.net or Berrier-Boyd at 913-299-9300 or pboyd@ksu.edu.