In search of new heights: Olympian takes the helm of
BLHS

track and field program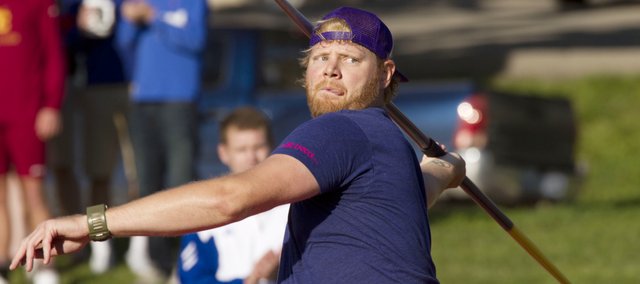 Ten months ago, Scott Russell was preparing for what would be his final meet as a track athlete.
He didn't qualify.
Russell, who finished 10th in the javelin throw at the 2008 Olympic Games in Beijing, needed two throws longer than 260 feet to qualify for London. In his first meet of the year at the Kansas Relays, he threw a mark of 264 feet, 5 inches. His next best throw came in a meet at Arizona where he came up four feet short.
It was a tough pill to swallow knowing that he had six throws at the Canadian Trials to make it happen.
The pressure added up toward the end of the season and he wasn't prepared as an Olympic athlete.
"It was hard to sit and watch the Olympics," the 34-year-old said. "The hardest thing to watch was my own event. I enjoyed watching it all as I always have, but to watch a 19-year-old from Trinidad throw less than your personal record to win the Olympics, I'm still kind of, 'Oh my god, I could have won the Olympics if I was there.'"
When he walked off the field in 2008, he wondered whether being at the Olympics and experiencing it was what it was all about. Or was there something more?
After not qualifying for London, it took him a couple of months to realize what was the reason for not qualifying.
"There's got to be something to take out of this that's a positive because I was really bothered, depressed by it," Russell said. "I was talking with my wife. I realized why and maybe she prompted me to something to make me think about it. 'We have a daughter, you're working full-time, all these other athletes train full time.'"
He said he'll miss the competing, but training just wasn't fun for him anymore because he was doing it by himself. He just thinks it might be weird next month when he won't be competing in the Kansas Relays for the first time in a while.
There were times where Russell didn't get to see his 18-month-old daughter, Violet, when he was training. And now he spends more time with other people's kids.
Russell is a physical education teacher at Basehor-Linwood Middle School where he coaches eighth grade football, eighth grade girls basketball. And now, he is about to begin his first season as head track and field coach at Basehor-Linwood High School.
During the first team meeting, Russell said, he had butterflies in his stomach. He's looking forward to the lack of control he has with the athletes in terms of their performance because it's now on them.
Russell didn't come in touting that he's an Olympian. He thinks most of them know. And if they don't know they can just look at his wrists: He has the Olympic rings on his right wrist and Canadian maple leafs on his left wrist.
The only control Russell has helping them train. He'll be in charge of the throwers, while he's going to rely on his assistants' knowledge for the other athletes.
Despite his status, Russell is an inexperienced head coach.
He's run a few summer camps and was Lawrence High School's javelin coach for a season, but beyond that he has little experience.
"At KU, I was never a social leader," he said. "I never got up in front of a team and said something to my team and I regret it as an athlete not saying anything. Even when I was at Lawrence High, I never said anything. I tried to let the head coach have his team. I popped in one time to say one thing and it felt like the right thing to do because of my experience. So now, as the head coach, to have that control of being able to say what I want to say and the freedom to say, it is kind of fun. It's fun to try to get into their brain."
If there's one thing that Russell wants the athletes to walk away with besides the technical and mental knowledge of being a track athlete, it's something from his personality that they can carry it on with them for life.
Senior and long distance runner Hayley Stallbaumer said Russell is focused on pushing the athletes as individuals and as a team to work together.
"It's inspiring and motivating because he knows what it takes to work hard and get the results you want," Stallbaumer said.
She is one in a select group of athletes that Russell thinks has a great opportunity to not just make it to state, but to potentially place.
"He's focusing on our potential and what we're able to do instead of what we've done," Stallbaumer said.
This group of seniors never had Russell as a teacher and will have him as their coach for one year. And only after a few weeks of practice, they wish they had him longer.
Senior sprinter and long-jumper Lane Young got the feeling that Russell was going to be head coach eventually.
Young said the workouts are more challenging. He said everybody gets a little bit of everything. The sprinters put in some long distance and vice versa.
Getting to state for Young may be a challenge. He tore his right ACL in September 2012 during soccer season and had surgery in the middle of that month. He also suffered a torn left MCL, his jumping leg, in the spring of 2011.
Senior hurdler Matt Ogilvie doesn't want to just get to state, but he wants to place Top-5 like his brother, Scott, did in the 110-meter hurdles.
"He knows, he's been there and knows what it takes," Ogilvie said of Russell. "He knows how to take his work ethic and put it on the athletes."
The one thing those three say to the underclassmen: Listen to everything he says and take advantage of him.
Sophomore thrower Katie Trower will be lucky enough to not only have Russell as a coach for three years, but to work with him every day.
"He works us through (the sprints)," she said. "The drills he puts us through motivate us to go forward with what we want to achieve and our goals for the rest of the year."
The last time Russell said he competed as a sprinter was in eighth grade. Maybe. But while at KU, where he won two NCAA championships and was a six-time All-American, he sprinted as part of his training.
"I threw up more at KU in my last two years training than I ever did being a basketball player in high school," he said. "We ran."
BLHS has 83 athletes this year — up from 70 a year ago — and Russell has 23 throwers, including 17 who want to throw javelin.
"Is there more interest having an Olympic athlete as your head coach?" he asked. "I'd like to think so."
He's been recruiting athletes to come out for track. He won't anti-recruit baseball or softball, but encourages students to do track.
"I've had a lot of benefit out of it as an athlete and I'm hoping I can give that to a kid that they can see the benefit," Russell said. "Whether that's life lessons or a scholarship or the camaraderie and the social atmosphere of the team."
He wants to start a culture of track and field at BLHS in the mold of the school's other programs.
"There's a culture of boys basketball with Coach McBride," he said. "There's a culture of softball with Coach Mayberry. That's kind of where I want to go, I want to start a culture where Basehor can walk into a meet and people go, 'Aw man, Basehor's here.'"
And maybe that's starting new traditions. While at KU, Russell wore neon pink shorts. Maybe in a few years BLHS will start wearing neon green. But the tradition and culture started on day one.
On the first day of training, Russell brought in a bronze medal from the Canadian trials.
He told them: "I have nine gold ones that match this one and I will remember this one the most. The reason I'll remember that one the most is because it's a medal I won when I didn't qualify. It's when I realized I expected more than I had worked for."
If his athletes expect to do big things, they need to prepare for them. Whether that's their job, their school or their own event, they need to prepare to their own expectations. If they expect nothing, they don't have to do anything.
Russell said he has a few things in his back pocket that he'll say later in the season to get them realizing the situation and opportunity they have.
For now, it's a matter of learning technique instead of results. He'll get out there with the athletes and demonstrate. He probably won't be able to launch a 260-foot throw, but might pop a few bubbles if egos get too big.
It started when he was playing baseball when he was 8.
"'You're really becoming good at this sport, but you're becoming extremely arrogant about how you go about your ways,' his father once said to him.
Russell added: "In the moment of it, it was, 'Oh my god,' he popped that bubble instantly. I'm like, 'I'm never going to be like that again.' I realized all the other kids on my team were starting to think the same. It was like, 'Oh, I'm a terrible person.'
"I want my kids on my team to be modest and let their actions on the field speak for their performance."
The Bobcats open their track season at 3:30 p.m., Thursday, March 28, at the Baldwin Invitational.