Bobcat kids club sending five to weekend state tournament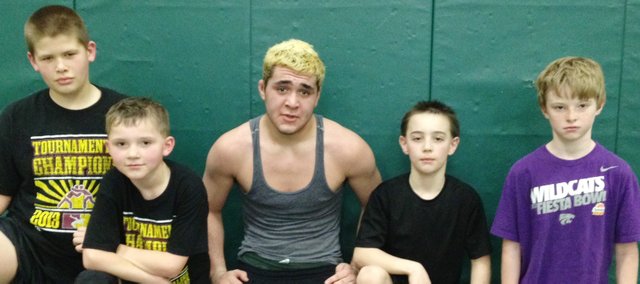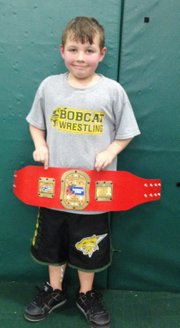 In just its second year, James Gallet's Bobcat Wrestling Club has become one of the state's biggest youth wrestling clubs.
This season, the team has grown from about 60 wrestlers to 80 wrestlers from ages four through high school.
"We've retained a lot of the wrestlers from last year and added several new kids," Gallet said. "The kids and parents who haven't been around wrestling before are learning, having fun and seeing some success. The bigger the number doesn't always mean better, but we're not going to turn kids away. If we have 100 kids who want to come out next year, then we have 100 kids. All of our coaches want to get the kids ready for high school competition. We want Basehor-Linwood to have a successful wrestling program, so we're trying to develop these kids so when they reach that level they are ready."
The team began the season in late November and has competed in tournaments in Blue Springs, Mo., Salina and Haysville to name a few. The team advanced five wrestlers to this weekend's state tournament at the Kansas Expocentre in Topeka. The club sent 10 wrestlers to compete in a district tournament at Holton High earlier this month.
The team has already had one state champion this season as Braeden Moore competed at a 6-under state tournament last month.
The state tournament, which the Bobcat Wrestling Club will compete at this weekend does not have a 6-under division, which is why Moore competed in the 6-under state tournament in Salina.
"Braeden has an overall record this season of 26-7 and has caught on pretty quick," Gallet said. "He has some great natural talent and it has been fun to watch him develop this season."
Looking to add to the club's state trophy haul this season will be Connor McMillen (8-under, 64 pounds), Ethan Cunning (8-under, 76 pounds), Peyton Reeves (10-under, 130 pounds), Jonathan Newberry (12-under, 68 pounds) and Johnny Hopper (high school, 160 pounds). Cunning (38-0) and Reeves each won their respective classes at the Holton district tournament.
The state tournament takes place Friday and Saturday in a structure similar to the high school championship tournament.
Each of Kansas' four districts send the top four from each division into a 16-man bracket.
— Stephen Montemayor contributed to this story.