ZIP

changes may come to Basehor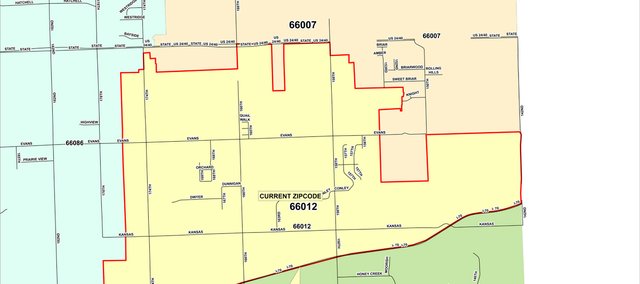 After submitting its request to realign Basehor's ZIP codes, City Council members have received confirmation that the United States Postal Service has approved the proposal.
The realignment would ensure that all Basehor residences and businesses have a mailing address in Basehor, 66007. The request would potentially change all property in the 66012 ZIP code (Bonner Springs) into the 66007 ZIP code (Basehor). Most Basehor residences and businesses south of U.S. Highway 24-40 have the Bonner Springs ZIP code.

The issues created by the two ZIP codes include:
• Basehor residents in 66012 potentially pay higher Wyandotte County insurance rates.
• Basehor residents in the 66012 ZIP code have to drive to the Bonner Springs Post Office to pick up packages and signature-required mail.
• Possible miscount of residents during the most recent census.
• Delivery companies have difficulty locating homes mistakenly looking in Bonner Springs.
• Possible delayed service from first responders.
• Inability of GPS to identify residences.
• Difficulty registering to vote.
• Contractors have difficulty determining which city to purchase permits and licenses from.
• Loss of sales tax and compensating use tax for Basehor.
A resident survey will be sent out to those affected within a few weeks.
A majority of the survey responses must approve the realignment, or the change will not go into effect, and another request cannot be made for 10 years.
If approved, the change would go into effect July 1, 2014.
For more information, call City Clerk Corey Swisher at 913-724-1370.