Close to home:
BLHS

alumna victorious in

KU

rowing event at Wyandotte County Lake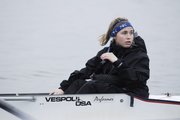 Kansas City, Kan. — The first horn that sounded in the first race of Saturday's Sunflower Showdown rowing regatta signaled victory for a Kansas University team piloted by a 5-foot freshman who, until last fall, hadn't competed in a sport not involving a ball or bat.
Basehor-Linwood alumna Olivia Cowan joined her four Novice 4-B teammates in raising an arm and letting out a celebratory shout on Wyandotte County Lake Saturday, edging a fellow KU novice team and one from Kansas State.
"It was a very rewarding feeling to see the smiles on their faces after this race," Cowan said.
In front of a crowd that included family members, former volleyball and softball teammates and BLHS softball coach Susan Mayberry, Cowan donned a radio headset and sat at the stern of her team's boat for the first of the day's seven races.
As her team's coxswain, Cowan helps her fellow rowers steer and navigate, interspersing directions with shouts of encouragement throughout the race.
In almost all cases, it is an acquired skill.
"It's hard when you're an 18-year-old to be in command of other 18-year-olds," assistant KU rowing coach Jennifer Myers said. "So I think some of that is a learning curve to figure out."
Though plenty of time and deliberation went into Cowan's choice to sign a letter of intent to join KU's rowing program despite having never competed, she still entered the season with about as much trepidation as could be expected of one picking up a sport for the first time — at the NCAA level, no less.
So sure, those first few practices were a little rough, Cowan said. Her coach likes to compare becoming a coxswain to driving a car while texting, applying lipstick and changing lanes.
Thankfully, Cowan's application of multitasking hasn't come with the catastrophic results Myers' analogy would produce.
"I think Olivia's biggest strength is she's pretty good at steering," Myers said, "and the rowers always say she's a good motivator for the team."
It helps that waiting for Cowan at KU was a collection of women capable of bonding as much as the state tournament softball teams Cowan was a part of at BLHS.
Part of what helped Cowan adapt to a new sport, and a new home, was how hard she said her new teammates pushed themselves in practice.
It's a dynamic coaches like Myers count on: in those days spent practicing on the Kansas River in Lawrence or traveling to places like Tennessee to compete, the team becomes something more. It becomes a family.
"I absolutely love the girls on my team," Cowan said. "Rowing has opened up a lot of doors for me."
On Saturday, Cowan's team got off to a nice start, beginning their race along the bank of the lake's dam. Disaster nearly struck, however, midway through the race. In what she later labeled a "hiccup," Cowan misdirected the boat slightly off course. In response, her rowers had to make up nearly 300 meters to get back on track.
But soon enough, crisis was averted. With a time of 8:52.4, Cowan's team had given her what she termed a second eye-opener of the season.
The first, she said, was her first career victory at the Louisville Invite in Oak Ridge, Tenn., earlier this month. The second, Saturday's accomplishment, allowed Cowan to experience defeating one of her school's historic rivals.
"We beat K-State," she repeated later, letting the thought linger.