Schneck, Klingele state-bound after placing fourth at tennis regional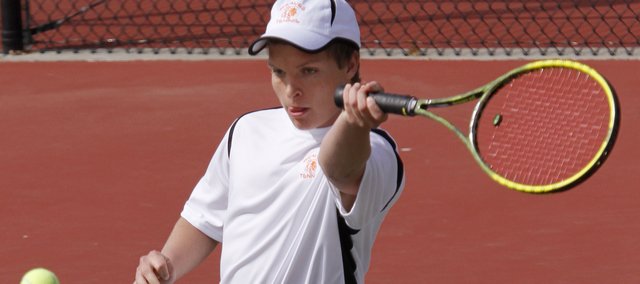 They had to wait an extra day and play in less-than-favorable weather conditions, but Bonner Spring's boys tennis doubles team of Quinton Schneck and Jack Klingele clinched a trip to the Class 4A state tennis tournament.
The duo went on to place fourth in regional play after falling in an extra set against De Soto, 6-3, 7-6 (7-5). Schneck and Klingele previously dropped a match against the eventual first-place team from Hays on Monday.
To clinch their state berth, the Braves ousted teams from Ottawa (6-4, 6-3) and Atchison (4-6, 7-5 and 12-10) on Friday.
The Class 4A regional was originally set to begin Thursday, but rain and snow set it, and practically all other tennis regionals, back a day. Both singles and doubles resume on Monday, with Schneck and Klingele being the only Braves left in the mix.
After Monday's play, the doubles team will advance to play in the Class 4A state tennis tournament May 10-11 at Wichita-College High, 1221 N Webb Road, Wichita.