Bobcat softball splits
DH

at Tonganoxie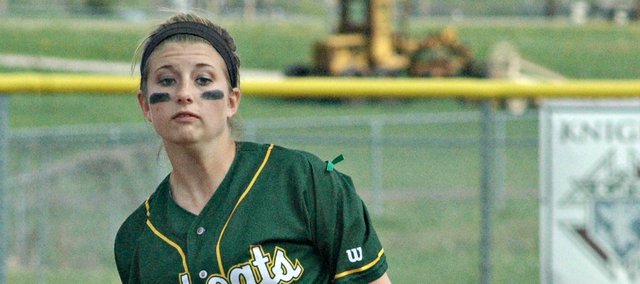 Tonganoxie — The Basehor-Linwood softball team split a Kaw Valley League doubleheader Tuesday at Tonganoxie to wrap up league play. The Bobcats won the first game, 3-0, then saw their nine-game win streak come to an end with a 4-1 loss in the finale.
BLHS (13-5) jumped out to an early lead on a first-inning sacrifice fly by Allison Kasick, and tripled their lead on a two-run home run by Katie Lackner in the third.
That's all the offense the team needed, as pitcher Asia Larsen mowed down hitters for the duration of the game.
Larsen went the distance in the victory, allowing just four hits — all of them singles — while walking one and striking out one.
The Chieftains (10-6) struck first in the nightcap with a four-run third inning that included three doubles. Starter Madison McDowell didn't make it out of the inning, as she was relieved by Larsen with two outs. Larsen allowed just two more hits in the game, but the Bobcat offense struggled against THS starter Sammi Bates.
BLHS got its best scoring opportunity when it loaded the bases with one out in the seventh, but only managed one run on an RBI single by Kayleigh Schoenfelder before Bates slammed the door.
The Bobcats will try to end the regular season on a winning note Thursday when they travel to Blue Valley for a non-league doubleheader. Regionals begin at 2 p.m. Monday against Bishop Ward (0-12) at Eudora High.
On Monday, BLHS swept Turner (11-0 and 10-0). Kasick hit a three-run home run in each game and Lackner hit a pair of triples and also scored two runs.
Game 1
BLHS 100 200 0 — 3
THS 000 000 0 — 0
Leading hitters: Jenna Donnelly 3-3; Katie Lackner 2-3, HR, 2 RBI; Allison Kasick RBI.
Game 2
BLHS 000 000 1 — 1
THS 004 000 X — 4
BLHS leading hitters: Allison Kasick 2-4, 2B; Kayleigh Schoenfelder 1-4, RBI.