Annual
KC

showcase introduces students to construction careers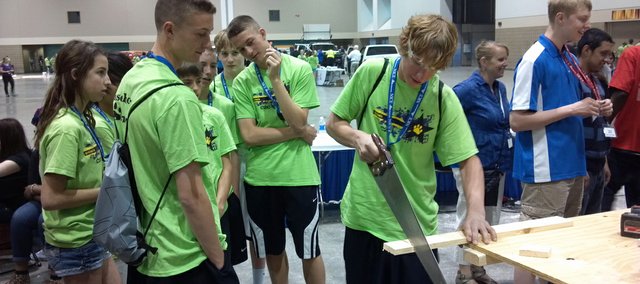 Basehor-Linwood Middle School's technology students got to show off everything they've learned about design and construction last week at Kansas City's Crayons to CAD competition.
The competition is held annually as part of the iBuild Showcase at Bartle Hall in Kansas City, Mo., which invites about 1,200 area middle and high school students to learn about the construction industry.
BLMS technology teacher Debby King said the competition is a great way for students to test the design and construction skills they've developed during the school year. Preparing the projects for the competition, King said, helps even students who struggle in the classroom make a better connection to the material.
"They understand why we're doing it and apply it to the real world," she added.
Each grade is given a different project and, working in groups, students use math, writing, problem-solving and presentation skills to devise a plan to present at the competition.
Sixth-graders must design blueprints and model a rooftop garden, entertainment patio, rain garden or landscaping for their school.
Seventh-graders' challenge is to create a new public park, which involves developing citizen surveys and writing letters to government officials in addition to designing the park. The eighth-grade challenge takes the design and model another step, requiring students to understand building permits and research labor and land costs for a new park and community center, King said.
King said she took about 180 middle school students to the iBuild Showcase this year. While competing in Crayons to CAD is a big part of the trip, students also have time to meet with professionals in the construction industry, as well as get hands-on experience.
Stations at the showcase allowed students to practice common construction skills such as using hammers and saws, but they could also try their hand at applying wallpaper and laying bricks.
"Some kids didn't think much of construction, what went into it, but there's a lot of work in it," King said.
For some students, the trip is simply a fun school project, but for others, it's an eye-opening opportunity for their future goals. This year, the showcase confirmed at least one of her student's dreams to be an architect, King said.