Senior import celebrated: Exchange student new to softball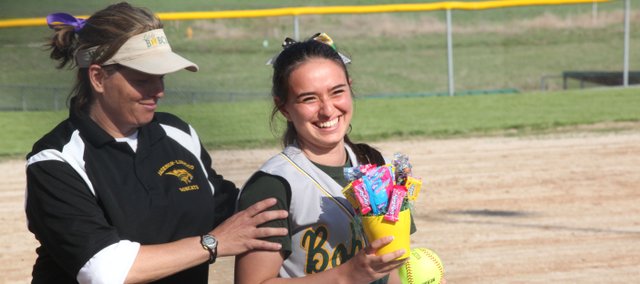 Yasmine Bale wore the colorful remains of a frosted chocolate cupcake Monday afternoon at the Field of Dreams complex after a teammate pelted her with the pastry as part of the day's senior night celebration.
The food here, the Basehor-Linwood senior exchange student from a town near Milan, Italy, later confirmed, was different from back home. It was just one of a host of differences Bale had discovered since joining the school in the fall.
Toward the end of a season in which the BLHS varsity softball team is without a senior on its roster, all eyes were on Bale, a left fielder on junior varsity, as the school prepared to send her off in her final home-away-from-home game.
"In a couple of weeks I'll be heading back to Italy," Bale said in her senior night speech, "but I promise I will always remember this year. This place and all of the great people are now a big part of my life."
Bale's hometown, she said, dwarfed Basehor, and she could walk to most of the places she needed to visit. In a smaller, more rural setting where car travel is essential, Bale also found herself speaking four more languages than the majority of her peers — for those scoring at home, Bale speaks Italian, English and Spanish, can understand Arabic while still learning German.
Still, she found a way to fit in, becoming fast friends with multiple girls from the school's softball team.
"Yasmine doesn't really know a stranger," said Michelle Mitchell, Bale's host mother for the first semester.
Chicken, no pickle
At Bale's school in Italy — Liceo Scientifico Ettore Majorana — extracurricular activities and sports are not offered anywhere near the extent in which they can be found at schools like BLHS. By spring, Bale prepared to begin her third straight sport as a Bobcat, having run cross-country and competed on the powerlifting team earlier in the year.
Counting among her closest friends several members of the Bobcats' junior-heavy softball team, Bale met BLHS coach Susan Mayberry in the winter and was told a place would be open for her if she wished to play.
"She never had played and didn't know anything about the game whatsoever," Mayberry said. "She really grasped the concept. I mean, she's against the eight-ball as far as the learning curve, but she's really taken to it."
The frequency with which the Bobcats practice and play was also new to Bale, who said she didn't participate in many sports at all back home.
"Here it's every day for two hours," Bale said. "In Italy, it's once or twice a week."
Bale took little time creating a memory, and subsequently an inside joke amongst teammates and coaches, while taking part in an otherwise routine practice drill one afternoon.
Assigned the role of the "pickle" in a drill that simulated a rundown, Bale was to act as a baserunner caught between two infielders whose task it was to pick her off. Part of the pickle's job description was to evade the infielder before her. Bale instead took on another role.
"She sprints right to the person with the ball," BLHS junior Carissa Mikesic said, laughing.
"Kind of like a chicken," BLHS junior Sara Rehm added.
Bale drew more laughter earlier in the afternoon when she included a reference to the drill in her senior night speech.
"I want to thank every single member of the team and my coaches for making me feel welcome and letting me be part of the team," she began, "even if I like to play chicken instead of pickle."
'The best months of my life'
Bale will have one more year of secondary school once she returns — they have 13 grades instead of 12. After that, college, with perhaps an eye on journalism. After all, who could say she isn't equipped for travel, what with her linguistic repertoire?
Before the second semester, Bale moved in with the Kennedy family, who also hosted Juho Luomajoki, a senior exchange student from Finland. Luomajoki was also recognized in a senior night ceremony during boys soccer season last fall.
"She's been real breath of fresh air," Gisela Kennedy said of Bale.
Sports have never been the focal point of Bale's life. Upon returning to Italy, she may never again be part of a team like she has in three separate seasons at BLHS.

Still, it was through the activities with which Bale occupied herself that she was able to spend time with those who helped her forget the times she missed home.
"They also helped to make these (nine) months the best months of my life," Bale said.