Otting leads sixth-place
BLHS

at

KVL

boys golf tournament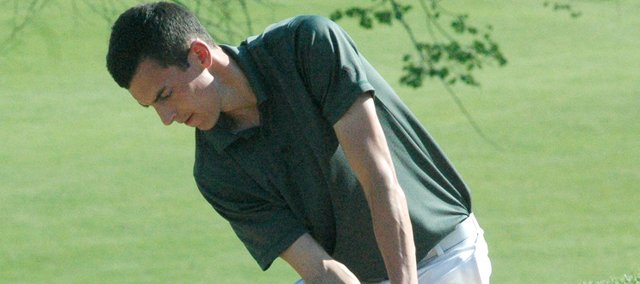 Kaw Valley League team scores:
Piper, 316 points

Mill Valley, 329

Tonganoxie, 338

Bonner Springs, 346

Lansing, 362

Basehor-Linwood, 380

Bishop Ward, 405

Turner, 444
Tristan Abts' third-place finish led the Bonner Springs boys golf team to a fourth-overall mark at the Kaw Valley League championship tournament Wednesday at Sunflower Hills Golf Course.
Abts, a Johnson County Community College commit, shot a 78 to place to lead the Braves, and teammate Marc McClain finished tied for 10th with an 84.
The Braves finished with a team score of 346, placing behind Tonganoxie (338) and ahead of Lansing (362). Piper won the tournament with a score of 316.
Jake Laing finished five shots behind McClain, finishing the day with an 89.
Alec Otting led Basehor-Linwood with a score of 86 and Ryan Potter shot a 94 at the tournament. The Bobcats finished sixth with a score of 380.
BLHS will return to competition on Monday in its Class 4A regional tournament at Bellevue Country Club in Atchison. Also competing will be Atchison, Holton, Royal Valley, Piper, Bishop Ward, Jefferson West, Perry-Lecompton, Tonganoxie or Topeka-Hayden.
The Braves will also compete in a Class 4A regional on Monday, traveling to the Shawnee Golf and Country Club, 6404 Hedge Lane Terrace, Shawnee. Also competing will be Baldwin, Santa Fe Trail, De Soto, Anderson County, Louisburg, Osawatomie, Ottawa, Paola and Spring Hill.