Briefly:
BSHS

boys golf wins regional; seasons end for

BLHS

baseball, golf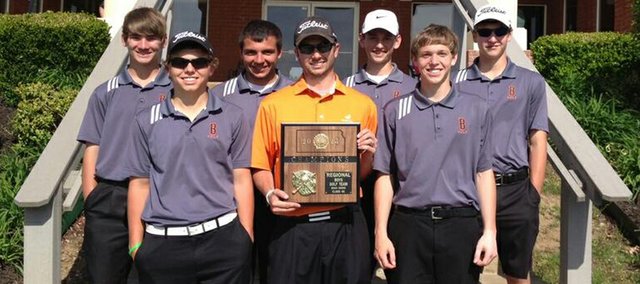 The Bonner Springs boys golf team placed first overall at its Class 4A regional Monday at the Shawnee Golf and Country Club.
The Braves edged Paola by two strokes to win the tournament and qualify the entire team for the state golf tournament.
Marc McClain led BSHS with a 74, good for second place. Teammate Tristan Abts wasn't far behind, shooting a 76 and finishing third on the day.
BSHS will next travel to Cheney for Monday's Class 4A state golf tournament at Cherry Oaks Golf Course.
BLHS baseball eliminated
No. 3 De Soto (13-6) eliminated the No. 6 Basehor-Linwood baseball team (6-10) in the first round of regionals on Monday.
The Wildcats defeated the Bobcats, 8-3, after opening the game with a three-run first inning. A two-run homerun by De Soto put it up early and the Wildcats led 4-0 after two. A two-out RBI single in the third by Zac Hevel brought in Bryan Crowe, who had reached on a double, for the Bobcats' first score.
Hevel later stole second and scored a run of his own off a single by Joe Merino. The two-run third inning brought life to a team that had been sent down in order in each of the first two innings. BLHS remained within two runs until the bottom of the fifth when De Soto tacked on another three scores.
Merino finished 2-for-3 with an RBI and a double and Crowe and Hevel each finished 1-for-2, both players also batting in one run apiece.
Season ends for BLHS golf
The Basehor-Linwood boys golf team's season ended at its Class 4A regional tournament in Atchison on Monday.
The Bobcats placed sixth in the 10-team tournament with a total team score of 401. The top two teams, Piper (299) and Topeka-Hayden (326), advanced to state and the top five lowest individual scores from players not on those teams also advanced.
Alec Otting (96) and Gage Zumbrunn (97) finished with the top scores for BLHS but no Bobcat qualified for the May 20 state tournament.