Neal homers but
BSHS

baseball's season cut short by Eudora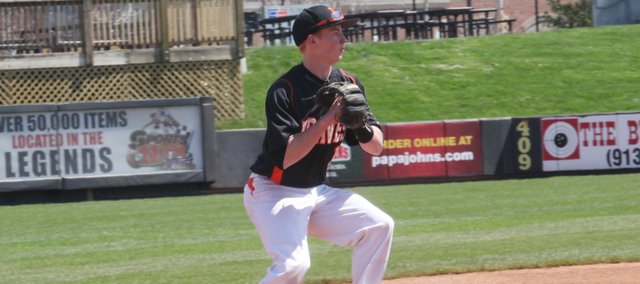 The story of the Bonner Springs baseball team's year didn't change once regular season became postseason on Monday.
After junior Darian Neal led off the second inning with a homerun to left field — the Braves' only long ball of the season — Eudora responded with a six-run fourth inning to win Monday's play-in game, 7-3, in Spring Hill.
The Cardinals' big inning came at the expense of five walks allowed by BSHS (2-18), and Eudora had just one hit in the entire inning.
"We will always play good for parts of the game," BSHS coach Scott Lero said after the loss. "The obstacle we have to get over is, number one, we have to play that good the whole game or that aggressive the whole game."
Senior Jonathan Blackwell started on the mound, cruising through three innings with a 1-0 lead.
"It's just the story of the year," Lero said, "All of a sudden we have that one or two innings where we decide not to throw strikes and they score six in the fourth."
Senior Logan Terrell ended his BSHS career with a two-RBI double and senior Luis Gardea tacked on one more stolen base to finish with a school-record 43 career stolen bases. Gardea went 0-for-1 but was walked three times and picked up his 27th stolen base of the season.
Gardea's 43 stolen bases eclipsed Chance Crawford's previous record of 36 set in 2009.
Another silver lining gleaned by Lero on Monday was the error-free nature in which the Braves played.
"Defensively we played well," Lero said. "So it's encouraging and nice to look back and say we played a clean game. We just had one inning where we weren't able to put the ball in the strike zone."
As the Braves prepare for a new summer league beginning at the end of the month and look ahead to next year, Lero talked up the importance of shaking off an run allowed here and there. Too often this season, he said, his team has allowed "crooked-number innings" — what starts as a one-run inning slides into the two's, three's, four's and beyond.
"It kind of goes to competing," Lero said. "We need to learn to compete a little bit better."
BSHS kicks off summer ball on May 28 as part of a new league that also includes Turner, Lansing, Piper, Eudora and the Midland Monarchs of Shawnee. It promises to be a big summer, Lero said, for a deep class of incoming juniors as well as next season's trio of seniors: Maison Patchett, Tyler Hernandez and Darian Neal.
"They will all have to assume the leadership qualities our senior class now started showing toward the end of the year," Lero said.
This year's underclassmen also emerged as a steady corps of contributors Lero will keep an eye on this summer. Roman and Thaddeus Glenn, Connor Byers and Jeremy McDonnell all logged significant innings for the Braves. McDonnell started as catcher for all but two of the Braves' games.
"It's going to be a big summer for them," Lero said. "We need them to take that next step."
In sending off Terrell, Gardea and Blackwell, Lero said the trio set the tone for what he wants BSHS baseball players to emulate.
"I want them to play fast," Lero said. "And they ran the bases well and played hard without me even saying this is how I want them to be. They definitely set the bar very high in terms of that."