BLHS

girls soccer team sends off longtime leaders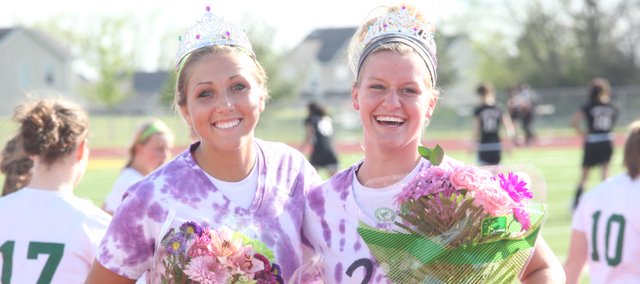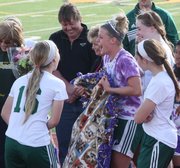 Under ample sunlight, Basehor-Linwood seniors Kara Stephens and Samantha Rutherford gathered on the track inside the football stadium for a pregame senior night ceremony on Friday.
A bond forged years ago was to be recognized as was a pair of athletes who first made their mark on the varsity level as underclassmen. So Stephens knew what was in store before the ceremony's end.
"It's kind of a tradition where the underclassmen make the seniors blankets," Stephens said. "They decided to make extra ugly ones this year."
A bundle of cats on one side and purple cheetah print on the other for Stephens; yellow plaid and purple peace signs for Rutherford.
"It will be useful," Stephens said with a smile. "It's soft."
The purple wasn't without meaning, nor was Stephens' choice to think positively of her gift, it being an eyesore notwithstanding.
The death of freshman Shealyn Hayes last month stopped the team in its tracks. But rather than crumble, the girls grew stronger together. They wore purple shirts in their first home game since the traffic collision that claimed their teammate's life, and every game henceforth began with shouts of "Play For Shea!"
"I think after the accident we all just kind of came together more as a team," Stephens said. "We just enjoy being around each other and just try to make it fun."
On Friday, Stephens scored twice and Rutherford added a goal in a 4-0 win against Bishop Ward to cap the regular season. The Bobcats' season, and the two seniors' careers, concluded Monday in a 6-0 loss to Bonner Springs.
The next iteration of BLHS girls soccer will look decidedly different in the duo's absence. For one, BLHS coach Derek Mazeitis knew he could count on Stephens to lead the Bobcats in scoring nearly every season.
"She's our goal-scorer," Mazeitis said. "Kind of how Kara goes, we go. Since her sophomore year, since I've been here, that's how it's always been."
Stephens, a multi-year all-conference and all-state player, has also been a stalwart in terms of leading the team in experience, strength and speed. In addition to playing four years of soccer, Stephens also played four years of basketball and competed on the school's powerlifting team.
Soccer, she said, has always been her first love since a very young age. Before coming to BLHS, Stephens spent several years playing youth soccer under BSHS girls soccer coach Mike Moulin.
Early into his tenure as BLHS coach, Mazeitis said he began to put pressure on Stephens "to carry the weight of the team on her shoulders."
"I've always felt like I could put extra pressure on her, because she's a strong person," Mazeitis said. "I never thought putting extra pressure on her and having higher expectations for her would be detrimental for her. She's always risen to the occasion."
BLHS, like BSHS, fielded two sets of siblings this season — including Samantha and her freshman sister, Nicole Rutherford. But for BLHS, that number may have been more accurately been three as Stephens and Rutherford also enjoyed a longtime connection spanning both soccer and basketball and life outside it. Of course, same could be said of Stephens and BLHS junior Jordan Nirschl as the two also spent each fall assisting the BLHS boys soccer team's coaching staff.
"They'll chew on each other even though they're so close," Mazeitis said about Stephens and Rutherford. "Those two I think are very competitive. They get after it every single day. I think that's what we'll miss the most … and the goals."