EMS

department among first to use new cots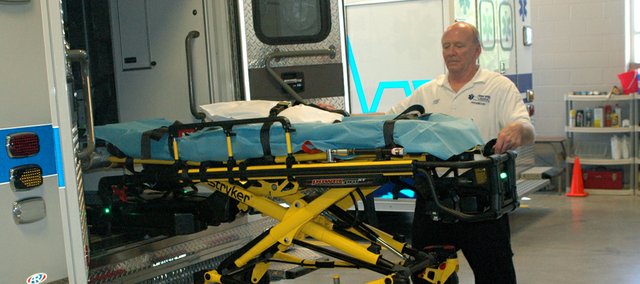 The Bonner Springs EMS Department is the first in Kansas to use new, hydraulic, battery-powered stretchers or cots in their ambulances.
In the first few months that the department has used the cots, John Claxton, department chief, says the new Stryker Power Load cot fastener system is already proving its worth for both patients and EMS paramedics and volunteers.
"I equate it as — your back is a bank and you have so many lifts in it, and as you start getting less and less, there's more of a chance of getting injured," he said.
The department received the Stryker cots in February, purchased using funds from the city's quarter-cent sales tax for public safety. He said the department needed new cots anyway, as the former cots were old enough that replacement parts were no longer manufactured.
"So if they break, then you don't have a cot," Claxton said.
The Stryker cot system has been on market a little over six months, and Claxton said Bonner is the first and only department in Kansas using it, while Grandview is the only department in Missouri using it.
The automated cots both move the cot in and out of ambulance and lower and raise the cot from ground level to waist level. This not only prevents injuries and medical costs for the paramedics who otherwise would be doing the lifting, it also prevents accidents with patients in which a paramedic might drop the cot.
The cot system is capable of lifting up to 700 pounds, which Claxton said would especially be helpful for heavier patients. He said one patient the department regularly transports to the hospital is about 500 pounds, and it always required four people to lift the patient into and out of the ambulance.
So the cots will be very beneficial to Bonner's volunteer-based department, which can't always have more than the required two paramedics on duty. Claxton and one other full-time paramedic work six days a week, but the rest of the time is covered by the department's 27 to 30 volunteers.
The department generally responds to 850 to 1,000 calls each year, and with the new federal healthcare act, ambulance runs may increase because paramedics will be required to help with managed care.
"So we may go out and check on a patient that just got out of the hospital, so that could increase our call load," Claxton said.
The department next week will celebrate National EMS Week with a dinner for its volunteers.