At season's end,
BLHS

softball reflects on overcoming adversity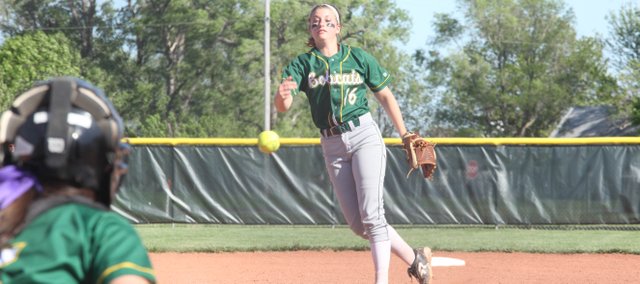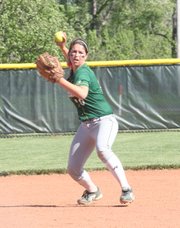 Eudora — There'd come a time to discuss what led to Basehor-Linwood's softball team falling to Bonner Springs in Tuesday's regional semifinal, 9-5, but coach Susan Mayberry's focus was elsewhere in the moments after the loss.
Tucked away in a dugout on a Eudora High field behind the one on which the two teams played, Mayberry instead recounted the ways in which her 14-7 Bobcats overcame adversity this season.
Entering the season, this young team with no seniors had questions about just how far it could go after losing its starting pitcher and several other seniors. Assistant coach Mary Nutter passed away in the summer, as did Mayberry's mother, Joyce, during the regular season — Mayberry herself stepped aside to be with family for two weeks.
And the Bobcats also lost a classmate, Shealyn Hayes, last month.
"We had a lot of things that set us back this year," BLHS junior Candice Jennings said, fighting tears. "But I think that's what built us up."
Character beyond belief, Mayberry called it.
"This is only going to build us up and make us stronger," sophomore Madison McDowell added.
BLHS again nabbed at least a share of the Kaw Valley League title this season, even taking one of two against co-champion and Class 5A perennial state qualifier Mill Valley to start the season. And eventually, sophomore Asia Larsen — who transferred from Tonganoxie before the school year — emerged as a new ace.
Larsen struck out six in a complete-game performance and sent three BSHS batters down in order in the top of the six to give the Bobcats one last crack at coming back.
BLHS had already erased a deficit earlier, coming back from down 5-1 to produce a four-run fifth.
Sophomore Allison Kasick led off the fifth with a double and McDowell began the scoring with a triple. Junior Katie Lackner batted in McDowell and later scored on an RBI single by freshman Gaby Brown. Freshman Jenna Donnelly batted in Brown before being tagged out after a collision at third base to end the inning.
But BSHS immediately responded with a four-run inning on its own, scoring all four with two outs. On Tuesday, McDowell led the Bobcats in going 3-for-3 and an RBI triple. Brown went 3-for-3 with an RBI and junior Kayleigh Schoenfelder finished 2-for-3 with an RBI. Lackner also batted in a run, going 2-for-4.
"To do what we did this season when very few expected us to is a tribute to these kids' work ethic," Mayberry said.
For some, the tears lingered after the post-game meeting and stung upon the announcement of the starting lineups for the successive regional final between BSHS and De Soto. But after a postgame meal, the Bobcat players and coaches filed out of the facility toward a district bus. Once inside, the bus shook with cheers and shouts.
Earlier, her chin quivering, Jennings called her team "fighters," adding that everything it went through in 2013 can only make it stronger. Pocked by a multitude of emotional setbacks, this season may yet become as memorable as any for those involved.
"I think honestly our biggest strength is our love," Jennings said. "Love for each other. That's one thing you have to have in softball: love."