BLHS

track and field qualifies for state in three relay, six individual events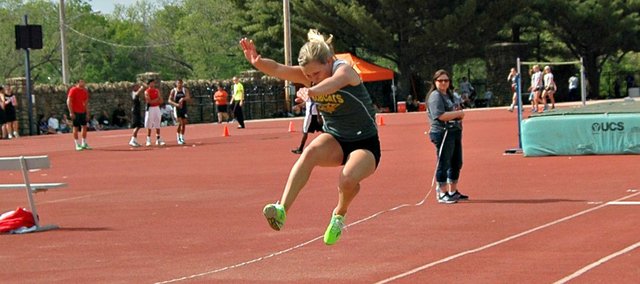 The Basehor-Linwood track and field team qualified for state in three relay and six individual events at Friday's Class 4A regional meet in Baldwin. The BLHS girls placed third overall with 46 points, behind De Soto (51.5) and Baldwin.
Meanwhile, Bonner Springs' boys team placed sixth out of 16 teams, qualifying three individuals and one relay team. Basehor-Linwood's Marriah Clayton shaved two-tenths of a second off her preliminary time to qualify for state in the girls 100-meter dash, placing fourth Friday in 12.74 seconds.
Clayton (27.13) then joined fellow sophomore, Katelyn Hickman (26.93), in qualifying for the girls 200-meter dash after the pair finished third and second, respectively.
Hickman and Clayton also placed third in the girls 4x100-meter dash with a state-qualifying mark of 50.47 seconds alongside teammates Maecy Cooper and Sierra Smith.
Smith also later won the girls triple jump with a jump of 34-06.5 and will be joined in Wichita by Allison Heinen, who placed third with a jump of 33-02.5 — a personal best.
After the meet, BLHS coach Scott Russell named Smith the Bobcats' performer of the meet.
BLHS will send two relay teams to state. Its boys 4x100-meter relay team of Trey Kincheloe, Bryan Crowe, Alex Jackson and Lane Young placed fourth in the event, edging Louisburg in a tiebreaker (43.98). The Bobcats' boys 4x800-meter relay team of Tanner Tavis, Johnny Fulkerson, Sean Potter and Eli Elliott also qualified with a fourth-place finish in the event, finishing in 8:38.87.
The achievement marked the first time in more than 10 years that a BLHS boys 4x800-meter relay team advanced to state.
BLHS placed behind the BSHS team of T.J. Kimbrough-French, Brandon Moore, William Scott and Austin Schuler. The Braves placed third with a time of 8:34.28.
The Braves will send two athletes to Wichita's Class 4A triple jump event after Jordan Jackson (42-03.75) and Anthony Kubas (41-07) placed second and third, respectively.
Also for BSHS, Austin Schuler finished second in the boys 800-meter run (2:02.57).
In the boys 300-meter hurdles, BSHS junior Travis Dooley was edged by one-hundredth of a second for the fourth and final state-qualifying mark. Dooley finished fifth with a time of 43.27 seconds, behind Perry-Lecompton's Tyler Ball (42.26).
BLHS senior Matt Ogilvie also narrowly missed qualifying for state in the 110-meter hurdles, placing fifth with a time of 15.91 seconds, just .04 seconds off a tie for third.
Baldwin's regional boys throwing events featured the top four marks in the state in an unusually competitive field. Bonner Springs' Kyle Dumler just missed qualifying for state in the shot put, placing fifth with a throw of 49-10. BLHS senior Ben Johnson wasn't far behind, placing sixth with a 49-01 mark.
Johnson did, however, qualify in the discus throw, placing fourth with a throw of 153-06. This time, Johnson was trailed by Dumler's 146-04 throw.
The state track and field championship meet will take place Friday and Saturday at Wichita State University's Cessna Stadium, 21st and Hillside.