BSHS

girls swim team closes season with two more records at state
Photo Gallery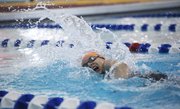 BSHS at 2013 girls state swim and dive championships
Bonner Springs' girls swim team sent its 400-yard freestyle relay team through to Saturday's consolation finals, where the team improved one spot to 15th. Meanwhile, the Braves closed the season with two more school records.
Topeka — This time was different.
Though the same setting in which the Bonner Spring girls swim team opened its season in record-breaking fashion, last week's return trip to Topeka was unlike anything else.
A young Braves team helmed by first-year coach Preston Williams found itself amidst several hundred swimmers at Friday's preliminaries, many of whom capable of blazing through the pool at speeds BSHS had rarely seen all year. All this in front of hundreds-more shouting spectators.
So what to do when the nerves hit?
"We had our bass in our minivan cranked all the way up," BSHS freshman Robyn Lewis said.
The district-issued vehicle thumped to the sounds of "Don't Drop That Thun Thun" (by something called FiNaTTicZ) and heads turned by the time it reached the parking lot of the Capitol Federal Natatorium in Topeka.
"It was blaring big time on the way down," Williams said.
The tune added a needed dash of light-heartedness to the team, which qualified for three relay events and four individual events. On Friday, the Braves proceeded to shave more time off their 200- and 400-yard freestyle relay teams, improving upon previously established school records.
By the time senior Cheyanne Miller finished anchoring the 400-yard team to a 4:14.78 finish in its preliminary heat, the Braves soon learned their stay at state would last beyond the day.
"I was just really shocked when we first heard our names," sophomore Madison Stumbough added. "I love being with these girls. I know it's going to be hard without Cheyanne next year because I've been swimming with her all my life."
Miller, Stumbough, sophomore Lei'Onna Smith and freshman Robyn Lewis turned in a stronger performance on Saturday in the final event of the Class 5-1A meet. Though they didn't best their new school record, the 400-yard relay team did move up a spot to finish 15th, topping Topeka West with a time of 4:16.03.
"They had to fight to get to day two," Williams said. "It was huge for the program, huge for the school and huge for the girls. To me it was a huge deal."
Saturday capped a season in which multiple school records fell. In addition to the relay events, Lewis shattered previous marks in the 200-yard and 500-yard freestyle events in addition to being a part of the school-record 200-yard and 400-yard freestyle relay teams in her debut season. Miller and Stephanie Rose depart a team that returns the bulk of its swimmers and figures to add several new freshmen next season to bolster a squad that placed second in the Kaw Valley League.
"We ended the season really well," Miller said. "All our girls worked their butts off every day at practice. Since I'm a senior, I'm going to miss swimming a lot, but I'll still come back with them and swim with them during their season."
On Friday, the Braves' 200-yard freestyle relay team placed 20th in the event with a school-record time of 1:54.28.
Meanwhile, Lewis placed 23rd in the girls 100-yard butterfly in preliminary competition (1:09.56). She also rounded out the top-25 in the girls 500-yard freestyle, finishing in 6:06.82.
Stay tuned for a feature on the Braves and more photos on bonnersprings.com and in the May 23 issue of The Chieftain.