City, sewer district reach agreement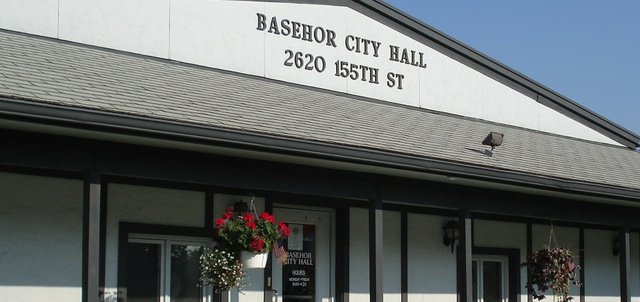 Basehor City Council members finally came to an agreement on sewer rates for Leavenworth County Sewer District No. 3 at their meeting Monday night.
After many years and discussions about how to charge the district after it had to involuntarily connect to city sewer service, the city agreed Monday to charge the district in-city rates without refunds for previous out-of-city rates it had paid since 2011.
Several residents showed up to speak on the issue, including Joan Robinson who lives in the district. While the district was paying the out-of-city rate, equal to 150 percent of in-city rates, Robinson's bill was as high as $170 per month, she said. It's not a simple annexation situation, she said, but she appreciated the city's attempt to make the sewer rates fairer.
"I know I would appreciate, and my neighbors would appreciate, if we were treated like we'll eventually be a part of the city," she said.
Council members approved the measure, which also altered the way sewer rates are estimated for new customers, making that fairer and easier for the city, Interim City Administrator Lloyd Martley said.
Vernon J. Fields was absent from the meeting.
Also during the meeting, council members:
• Passed the consent agenda, which included approving: minutes, the treasurer's report, a Basehor Historical Society proposal to move Reuben Basehor Library to the city park, a grinder pump agreement as part of the Briarwood Estates annexation, a change in meeting date policy for holidays, the repeal of an ordinance allowing developers to pay a fee in lieu of constructing sidewalks, expanding a fireworks exemption to allow fireworks daily until 10 p.m. on July 4-6, renewal of employee benefits, and bringing back former City Prosecutor KiAnn McBratney to replace current City Prosecutor Mike Kelly.
• Approved an agreement to transfer the deed of the triangular piece of property at 150th Street and State Avenue back to First State Bank and Trust.
• Approved the annual appointments of: Lloyd Martley, police chief; William Pray, municipal court judge; and Corey Swisher, city clerk and treasurer. The following planning commissioners' terms have expired and were reappointed: Fred Farris, Terry Gall, Jon Gallion and Ed Bush.
• Approved the purchase of 13 Karbon Arms Tasers, related accessories and training not to exceed $15,000.
• Approved the conveyance of easements to acquire property for Wolf Creek Parkway extension, which allows the city to record permanent easements with Leavenworth County.
• Entered into executive session for five minutes to discuss real estate acquisition.