A winning design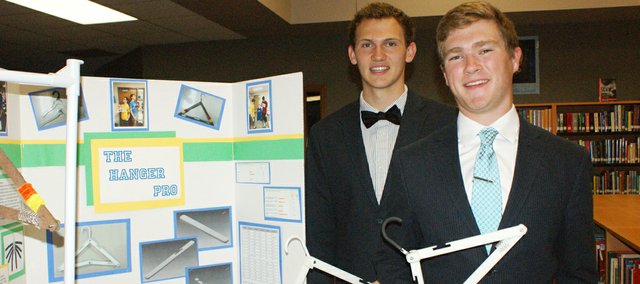 An idea inspired by a part-time job at Gap paid off big for two Basehor-Linwood High School seniors this year.
When Jared Kenton and Paul Rehm started their pre-engineering design and development class at BLHS, they knew right away what they were going to design: a better hanger.
"The idea was instantaneous when we started this class," Rehm said.
After spending many hours hanging up shirts at their after-school jobs, they knew they could design a hanger that was easier and quicker to use. The students started planning their project for the course's capstone, Project Lead the Way, at the beginning of the year. When they learned about Wichita State University's engineering scholarship competition this spring, they kicked into high gear.
Kenton and Rehm went through three main designs for their hanger, experimenting with locking mechanisms and bumpers. They finally landed with the final Hanger Pro design, which features a collapsing mechanism that allows the hanger to be slid into the neck of a shirt vertically and then extended to support the shirt.
"We switched over the entire design," Kenton said.
Their inventive design won them the Project Lead the Way engineering competition at WSU this spring, as well as $2,000 scholarships to study engineering at WSU.
Kenton plans to study electrical engineering at Kansas University, but Rehm will be taking advantage of his scholarship while studying industrial engineering at WSU next fall.
"We may have a bright career in engineering," Rehm said with a smile.
Even though Kenton can't use the scholarship money, the competition was great experience, he said.
"We used our creativity to do something totally on our own," he said.
Kenton and Rehm's project was on display last week during the BLHS Project Lead the Way showcase along with three other student projects.
Gage Zumbrunn displayed his portable heated coffee cup. Cameron Kennedy shared his light-saving lamp design. And Joe Levinson demonstrated his "hillow," a cross between a hooded sweatshirt and pillow to create a more comfortable napping experience.