A dedicated duo: Couple finds purpose, each other through missions work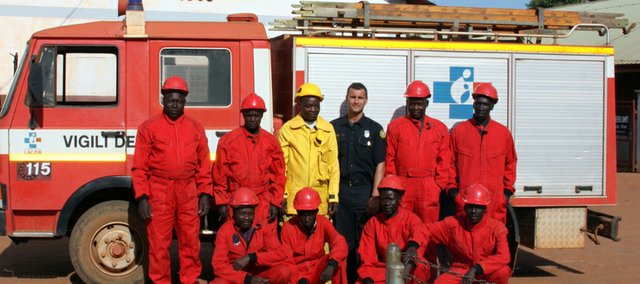 A Bonner Springs couple discovered a lifelong mission — and each other — through their work with a foundation offering medical care in developing countries.
Medical Missions Foundation, or MMF, sends teams of volunteer doctors, nurses and support staff to developing countries across the world. And Ryan Beasley and Lisa Buchholz each say that after taking their first trip with the Medical Missions Foundation, or MMF — Beasley's in 2007 and Buchholz's in 2005 — they knew the work was something they would want to continue.
"I guess it's in my blood — I like helping people," said Beasley, who is a Kansas City, Kan., firefighter.
Buchholz, a pharmacist, also said she enjoyed helping people and identified with the goal of MMF.
"One of the things I'm probably most proud of with Medical Missions is their mission is to provide care in areas that need it but also to provide education — they want to educate the local healthcare providers to give better care once they leave," she said.
The foundation also holds a special place in their lives because it was what brought the couple together — they met in Romania on Beasley's first MMF trip, began dating four years later and were married earlier this month. It was a complicated journey of unique circumstances to bring Beasley, a California native, and Buchholz, who grew up in Marion, together in Bonner Springs by way of Romania.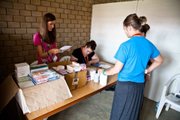 Buchholz was in her final year of pharmacy school at Kansas University when her professor told her that MMF needed pharmacists — even if only pharmacy students. So at the beginning of her final year, she set off to Romania, where she worked to set up a pharmacy to serve the foundation's medical clinic, as well as organizing shipment of the medications for the pharmacy.
She said she had traveled fairly extensively and had done some mission work through her church, but her experience with MMF quickly made her decide that she wanted to go on more trips. She eventually dedicated herself to taking two trips a year and has worked in Mali, Uganda and Panama.
"There are so many factors — just the closeness of the group, the support that each of the team members gives," she said of her decision to continue with the foundation. "… Just the dynamic of the group made it really comfortable to be in this foreign place and know we're there for the same reason. It's just so rewarding to see how receptive the local people are and they're so appreciative of all the work that you do."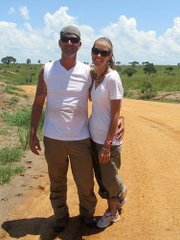 Buchholz even organized the first five years of her career to allow her to take trips with MMF, working as an on-call pharmacist.
"Since I was involved with Medical Missions before I graduated, I knew when I got done that I was going to have to figure out my career path to facilitate my desire to do medical mission work," she said.
Beasley began working with MMF to help the foundation train firefighters and teach the public what to do in the case of burns.
He began working as a volunteer firefighter where he grew up in California, gaining experience fighting wildfires and earning a degree in fire science. However, he couldn't find a full-time job in the area, so he moved to Missouri to be near his father and got his first job with a fire department near the Lake of the Ozarks.
He then moved to the Kansas City area to take a job in Merriam before joining the Kansas City Kansas Fire Department, where he got involved with the Midwest Regional Burns Foundation. It was through the burn foundation that he learned about MMF, which was looking for volunteers because doctors were seeing a lot of burns on Romanian children due to accidents with small stove.
"So we just started at the bare roots of stop, drop and roll, and get low and get out, and what to do in case you get burned, because they seriously are still thinking you should put oil on it or put salt on it if you get burned," Beasley said.
Beasley quickly made a commitment to go on more medical missions trips and found support from his department, which has worked with him to allow the necessary time off and has donated materials to the effort.
"It's a great thing that they're doing," he said. "They always tell me I'm doing a good job, and I think it is (important), but I see what they do, and it's amazing — the doctors, the surgeons."
Both Beasley and Buchholz decided to continue with missions despite the expense. MMF sets a cost for each trip — generally $2,000 to $2,500, including transportation and food. The foundation provides a few grants for up to 50 percent of the cost, but otherwise, each participant is responsible for covering the cost of the trip.
Their participation increased once they began dating. They met on Beasley's first trip to Romania but were friends. At the time, Buchholz lived in Colorado and Beasley in Bonner Springs, so they only saw each other on missions trips and once when Beasley was on a ski trip in Colorado.
That changed on a shared mission in 2010.
"That last mission we just started talking," Beasley said. "Then she came back to visit me, and I went to visit her."
They began taking two trips each year together — in addition to Romania, Buchholz helped Beasley find foundation work in Uganda, where he teaches firefighters and the public the best methods for treating burns and responding to common lightening-strike wild fires.
Working in the war-torn country was another eye-opener for Beasley.
"I got back from Romania and thought, 'Oh, we're lucky to be here in America,' but then we got to Uganda, and that went to a whole other level," Beasley said.
In 2011, Beasley convinced Buchholz to move to Bonner Springs with him, and she was able to find a position with the pharmacies at four of Queen's Price Chopper's stores, including the Bonner Springs location, that allows her to take time off for MMF trips.
Last July, while on an MMF trip in Romania, Beasley proposed. They married May 4.
But they don't plan to let married life interrupt their dedication to making at least one trip a year with MMF — they will return in September to Uganda.
"I think it will always be something that we do," Buchholz said. "It would be hard to ever walk away from it, and that's something that I don't ever see happening."